The U.S. Drug Enforcement Administration (DEA) and federal prosecutors have made 280 arrests in what they call an "unprecedented enforcement action" against doctors, pharmacies and pill mills for alleged trafficking and abuse of prescription drugs.
The 15-month operation, dubbed Operation Pilluted, focused on the states of Arkansas, Alabama, Louisiana and Mississippi. The total of 280 arrests included 22 doctors and pharmacists, according to officials.
Operation Pilluted involved nearly a thousand law enforcement officers, led by the DEA New Orleans Field Division, DEA said.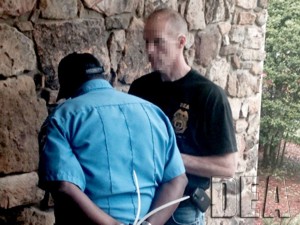 Officials said they used intelligence data, information provided by state and local law enforcement, and complaints from citizens to identify DEA registrants and others involved in prescribing, obtaining and selling addictive controlled substances such as Oxycodone, Hydrocodone and Xanax.
"The doctors and pharmacists arrested in Operation Pilluted are nothing more than drug traffickers who prey on the addiction of others while abandoning the Hippocratic Oath adhered to faithfully by thousands of doctors and pharmacists each day across this country," said DEA Special Agent in Charge Keith Brown.
In addition arresting 22 doctors and pharmacists, DEA said it has taken action to remove or restrict the ability of the targeted 40 DEA registrants to prescribe or dispense controlled substances.
In 2013, there were close to 44,000 unintentional drug overdose deaths in the country, one death every 13 minutes, according to officials. More than half of those deaths were attributed to prescription drugs and, of these, 71 percent were attributed to opioid overdoses.
DEA said it obtained 21 search warrants across the four states and seized 51 vehicles, 202 weapons, and $404,828 in cash. DEA said it also seized $11.6 million in funds real property worth $6.7 million.

Related:
Was this article valuable?
Here are more articles you may enjoy.