Frederick H. Eppinger is stepping down as president, chief executive officer and a director of the Worcester, Mass.-based The Hanover Insurance Group. The announcement said Eppinger, 56, is leaving to pursue other interests.
The company said he will continue to serve in his current role until his successor is appointed and then will be available to assist with the transition as needed until June 30, 2016. The board has initiated a search for Eppinger's replacement.
Eppinger has led the company since August 2003. Under his direction, The Hanover has transitioned from a regional company to a property/casualty carrier with a global reach. During that time, the company has more than doubled in size and has grown its total capital, book value and earnings power.
Today, the company provides personal, commercial and specialty insurance lines in the United States, exclusively through independent agents and brokers, with a specialist Lloyd's insurance group, Chaucer, that writes business in approximately 200 countries around the world. Hanover acquired Chaucer in 2011.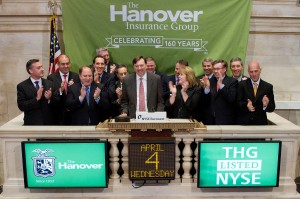 "After 12 years of tremendous progress, with the company stronger and better positioned than ever, and with a history of substantial shareholder returns," Eppinger said, "I have decided that it is time for a new leader to step in and work with our talented management team and all of our talented employees to take our company to the next level. I look forward to new professional opportunities, to spending some extra time with my family, and to pursuing some personal interests."
For a period starting in 1992, Hanover came under the umbrella of Allmerica Financial, which included State Mutual, a large life insurer. In addition to selling fixed life products, Allmerica became one of the hottest sellers of variable annuities in the late '90s. It got into deep trouble, however, after the stock market collapsed following the Sept. 11, 2001, terrorist attacks. The company struggled to generate the investment returns it had guaranteed the holders of its variable annuities.
Allmerica President and CEO John F. O'Brien, who championed the variable annuity sales, resigned in October 2002. In 2003, the company sold its fixed life insurance business and in August of that year hired Eppinger to take over the company.
Under Eppinger, Hanover restructured after shedding its life insurance business, focused on diversifying its property/casualty business and expanded geographically into California and other western states. As part of this western strategy, it acquired access to $400 million in small and middle market commercial business from One Beacon in 2009.
The company also restored its name, Hanover Insurance Group.
Eppinger oversaw several acquisitions during his tenure including specialty insurer AIX Holdings, chemical insurer Verlan, healthcare industry professional lines writer The Campania Group and Professionals Direct, an insurer for lawyers.
The insurer celebrated its 160th anniversary in 2012.
The Hanover Insurance Group is now the holding company for a group of insurers that includes The Hanover Insurance Co., based in Worcester, Mass., and Citizens Insurance Company of America, headquartered in Howell, Michigan, and Chaucer Holdings, based in London, and their affiliates.
Eppinger has credited independent agents for much of Hanover's success.
"We grow when other people don't grow because we solve more problems for the typical agent than most companies. It's as simple as that," Eppinger said in assessing the firm on its 160th anniversary. "Our whole vision is that we combine innovation and this franchise value with agents with this notion of local adults that have authority. We give our professionals authority. Sure we have efficient models and we have automation like everybody else, but we're not one of the companies that says the black box runs this place."
Before joining Hanover, Eppinger was executive vice president of Property and Casualty Field and Service Operations for The Hartford Financial Services Group. Prior to that, he was a senior vice president from 2000 to 2001 for ChannelPoint, a business-to-business technology firm for insurance companies, and was a senior partner at the consulting firm of McKinsey & Co., where he led the insurance practice and worked closely with insurance CEOs over a period of 15 years, beginning in 1985. Eppinger began his career as an accountant with Coopers & Lybrand.
Michael P. Angelini, chairman of the Hanover board, praised the departing executive.
"Fred made extraordinary contributions to The Hanover during what was a critical period and he has positioned our company for the future with a distinctive strategy and distribution platform, a highly experienced team, and a growing global presence," said Angelini. "We appreciate all that Fred has done for our organization and wish him all the best. We remain confident in our ability to achieve our financial goals as we continue to deliver value to all of our constituents."

Related:
Was this article valuable?
Here are more articles you may enjoy.