The Travelers Companies held its first earnings call under new CEO Alan Schnitzer on Jan. 21 with the property/casualty carrier's executives putting forth a message of continuity and normalcy, even in the face of a fast-evolving market.
Schnitzer, formerly head of Travelers' Business and International Insurance segment, replaced long-time Chief Executive Officer Jay Fishman on Dec. 1. Fishman decided to give up his CEO slot due to a neurodegenerative condition that appears to be a form of ALS, though he remains as executive chairman.
In the wake of that transition, Travelers' fourth-quarter earnings call was very much about Schnitzer and his executive team, and the numbers. Schnitzer offered positive comments, such as: "We're very pleased to finish 2015 with another strong quarter" while citing fourth quarter results featuring flat net written premiums, some price hikes, and depressed investment income.
Schnitzer emphasized that he and his team are attuned to marketplace changes underway ranging from mergers to widespread market softening.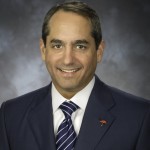 "We are very aware and deeply engaged," he said. "As we think of everything that has potential to change in this marketplace, nothing is going to change overnight. These things are going to change and develop over time, and we think we can understand and manage."
"For the most part, we see more opportunities than we do risk," Schnitzer said. "We are positioning ourselves to leverage [opportunities] and where there is risk, making sure we do everything we can to mitigate it."
Fishman was brought up in the very beginning, when an announcer noted he was in the room "with other members of the senior management team," though he did not speak. Schnitzer also mentioned Fishman at the very end of the call, in addressing a question about what he has focused on in his seven weeks or so on the job as CEO.
"One thing we are going to do is continue to evolve, innovate," Schnitzer said. "Reassessing is something we have always done, and Jay [Fishman] has always led that initiative. I have taken over from Jay, and just like Jay didn't do it alone, I will continue to lead the group and continue assessing what is going on … and [be] making sure we are innovating."
Schnitzer also reminded investors that he is both qualified and has much to learn. He has experience managing all of Travelers' commercial and international business, he said, but is less familiar with its personal lines business and functions like claims, IT, operations and risk control.
"I am trying to spend a lot of time in those businesses, and areas I haven't had experience with," Schnitzer explained. He added he is spending time "in and out of the field" with employees in these and other areas, and that it is "a priority of mine."
For the fourth quarter, profit fell 17 percent as investment income declined on low bond yields and valuations for energy-related holdings.
Net income dropped to $866 million, or $2.83 a share, from $1.04 billion, or $3.11, a year earlier, when the company had a greater benefit tied to reserves, the New York-based insurer said Thursday in a statement. Operating profit, which excludes some investment results, was $2.90 a share, beating the $2.66 average estimate of 26 analysts surveyed by Bloomberg.
This is a slightly edited version of an article that originally appeared in Wells Media Group's sister publication, CarrierManagement.com.
Topics Profit Loss InsurTech
Was this article valuable?
Here are more articles you may enjoy.