Liberty Mutual Insurance saw profits fall for the fourth quarter and full year 2015 due to higher catastrophe and energy-related losses.
Parent Liberty Mutual Holding Co. booked $411 million in net income in Q4, a nearly 26 percent drop from $553 million booked during the same period in 2014.
Full-year net income for 2015 plunged $514 million, down 71.7 percent from $1.8 billion in net income in 2014.
Fourth quarter operating income was $437 million down from $550 million in the prior year. Full year operating income was $1.44 billion down from $1.94 billion in the prior year with net written premium up 0.6 percent.
Chairman and CEO David Long pointed to increased catastrophe losses, energy sector -related losses ($380 million for the year) and foreign exchange effects for the disappointing results.
Catastrophe losses for Q4 2015 came in at $289 million versus $154 million in the 2014 fourth quarter.
Full year, 2015 catastrophe losses surpassed $1.8 billion versus $1.6 billion in catastrophe losses for 2014. Liberty Mutual said it dealt with a number of events in 2015 including severe storms in the U.S., U.K. and Australia, Cyclone Niklas, and also an earthquake and floods in Chile.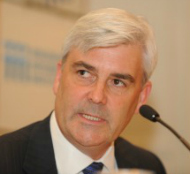 The consolidated combined ratio before catastrophes for the three months ended December 31, 2015 was 94.1, an increase of 1.3 points over the same period in 2014. Including the impact of catastrophes, the combined ratio for the quarter increased 1.5 points to 95.7.
For the full year, the combined ratio before catastrophes was 93.0, an increase of 0.3 points over 2014. Including the impact of catastrophes, the 2015 full year combined ratio remained unchanged from 2014 at 97.8.
Net written premium for Q4 came in at more than $8.1 billion, down $115 million, or 1.4 percent from Q4 2014.
Net written premium for all of 2015 hit $34.5 billion, an increase of $201 million, or 0.6 percent over 2014.
During 2015, Liberty Mutual took several actions to divest operations. In July, it sold its book of Great Britain personal motor business to Chaucer Insurance. In September, it closed its Venezuelan operation. In December, it agreed to sell its Polish operation to a member of the AXA Group.
2016 Plans
On a conference call with analysts, Long said while there is room to grow personal lines in the U.S., the company sees even greater growth potential outside the U.S. on the consumer insurance business. He said this thinking is behind the plan to blend two of its business units.
On February 17, 2016, the insurer announced plans to combine its Personal Insurance and Liberty International strategic business units to form a new strategic business unit named Global Consumer Markets. "This combination represents an opportunity to blend the complementary strengths of these two operations. The local expertise we have in growth markets outside the U.S. coupled with our strong and scalable U.S. personal lines capabilities put us in a unique position to take maximum advantage of opportunities to grow our business globally," said the company's announcement.
The former Personal Insurance and Liberty International strategic business units will now be divisions of Global Consumer Markets and be known as U.S. Consumer Markets and International Consumer Markets, respectively.
Long also said Liberty Mutual hopes to "push more" on small commercial lines and he'd like to see Liberty Mutual "do better" in the middle market and achieve "more scale" in specialty lines.
He said management will grapple with how to best to accomplish its growth. "It's difficult to grow organically but expensive to grow inorganically," he said.
On January 14, 2016, the company completed the acquisition of Compañia de Seguros Generales Penta Security S.A., the fourth largest non-life insurer in Chile. Compañia de Seguros Generales Penta Security S.A. had approximately $160 million of net written premium in 2015.
Source: Liberty Mutual
Was this article valuable?
Here are more articles you may enjoy.