General Reinsurance Group is getting a new CEO: Berkshire Hathaway reinsurance senior executive Kara Raiguel, who is described by her boss as a "secret weapon," "zero maintenance," and a "true renaissance woman in the insurance and reinsurance industry."
Ajit Jain, head of Berkshire Hathaway's Reinsurance Group, announced the news about who will lead Gen Re in a memo to employees—a candid document that also addresses concerns that the reinsurer "has become less relevant in the marketplace than it once was."
Gen Re is part of the Warren Buffett-owned Berkshire Hathaway, and Raiguel's promotion follows news in April that current Gen Re Chairman and CEO Tad Montross would step down by the end of 2016.
Jain said that Raiguel's mission over the next 90 days will be to "determine how best to grow Gen Re's book of business without sacrificing the underwriting discipline and integrity that has been the hallmark of the past few years." She'll also look at ways to broaden business relationships without harming the company's platform.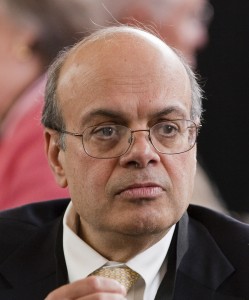 In his memo, Jain described Raiguel, a trained actuary, as "a key player at our reinsurance division for over 15 years" and his "secret weapon." He credited her with helping to launch the company's "significant" workers compensation business in California, leading its entry into the Indian reinsurance market, and launching and managing the creation of its municipal bond insurer. He also lauded Raiguel for leading efforts to underwrite some of the company's "largest retroactive reinsurance transactions."
Jain added that Raiguel "is a true renaissance women in the insurance and reinsurance industry." He described initially meeting her and believing she "was going to be a high-performing/low-maintenance colleague," adding that she ended up being "zero maintenance" because of her abilities.
Montross reported directly to Buffett, but Raiguel will report to Jain, long rumored as a potential replacement for Buffett once he retires.
Along those lines, Jain disclosed in his memo that he has taken the time in recent weeks to evaluate the Gen Re business, which has seen sales and pretax underwriting profit drop. Gen Re announced in March that it would close several global locations in a larger bid to reorganize.
Jain credited Montross with "addressing old mistakes and avoiding new ones" and said he was impressed by Gen Re's platform, client relationships, portfolio and "rock-solid balance sheet." But he acknowledged concerns "both internal and external" that Gen Re is "becoming less relevant in the marketplace."
Jain said that those worries, plus the continued "serious headwinds" the reinsurance business still faces, "requires us all to consider whether and what actions might be taken to best position Gen Re for the next chapter."
Even so, Jain reassured employees that executives "are not interested in any hasty decisions or changes that could do harm to the well-oiled machine that," thanks to [outgoing CEO Montross], Gen Re has become."
Hollmer is editor of CarrierManagement.com, where this article was originally published.
Topics Reinsurance
Was this article valuable?
Here are more articles you may enjoy.