Data from the 14 U.S. surplus lines service/stamping offices show they have processed almost $12.7 billion in insurance premium filings in the first half of 2016, according to the Surplus Lines Stamping Office of Texas (SLSOT).
The $12.7 billion in premium filings represents a 3 percent decrease in premium processed compared with the same time period in 2015. The decrease is attributed to the number of filings, which fell by 1.8 percent from 2015. There were approximately 1.8 million filings in the first half of 2016.
SLSOT gathers surplus lines premium and transactional policy data from the 14 service/stamping offices on a biannual basis. The data is evaluated and reported to the excess and surplus lines industry to show trends and changes in the marketplace on a national, regional and state level.
As seen in the regional depiction below, the service/stamping offices in the South had the highest aggregate premium, at $5.6 billion. Additionally, the southern region led with 1.1 million filings.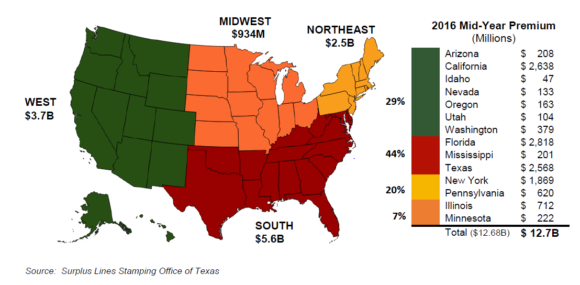 Three of the four largest surplus lines markets — California, Florida and Texas — each showed decreases in premium over the first half of 2016. Florida had a premium decrease of 2.2 percent, while Texas had a decrease of 1.6 percent.
Interestingly, Texas did not experience a decrease policy filings; the state saw a 3.1 percent increase in policy filings compared to 2015. California and Florida did however experience a decrease in transactional business compared to the previous year.
In 2015, California reported approximately $3 billion in premium, but showed a decrease in 2016 of 9.9 percent with $2.6 billion in surplus lines premium.
The fourth largest market, New York, had a slight increase in premium of 0.7 percent, and sustained an increase in transactional filings of 6.5 percent.
Eight service/stamping offices reported premium totals of less than $500 million. Idaho was one of these states and experienced the largest percentage premium growth at 21.4 percent. Additionally, on Jan. 1, 2016, Idaho's stamping fee increased from 0.25 percent to 0.50 percent.
Minnesota experienced an 11.2 percent decrease in premium, reporting $222 million. Minnesota will reduce its stamping fee from 0.06 percent to 0.04 percent on Oct. 1, 2016.
Two states falling within premium range of $500 million to $1 billion, were Illinois and Pennsylvania. Initially, Pennsylvania reported a premium increase of $3.7 billion; however, the actual 2016 mid-year was $620 million in premium, with the difference of $3.08 billion due to an enforcement action involving 1,172 policies.
The reported changes purely reflect the first half year of 2016 premiums, in comparison to 2015. The numbers will be reevaluated at the end of year 2016 with perhaps a clearer picture of market forces.
Source: SLSOT
Topics California Texas Florida Excess Surplus
Was this article valuable?
Here are more articles you may enjoy.