If Alexandra Zepp is typical of those in a millennial generation that's beginning to account for a larger and more influential portion of the nation's workforce, then what she has to say about her choice of companies to work for might be worth noting.
The 23-year-old knew exactly what she was looking for after graduating in 2015 from Penn State University armed with an enterprise risk management degree and a minor in business law.
It wasn't money, or even so much opportunity for advancement.
"When I was interviewing and looking at where I wanted to start my career, the first things I'd look into was whether a company is environmentally and socially responsible," she said.
Zepp had interviewed with three or four companies for an internship before deciding to go with The Hartford Financial Services Group Inc.
Following the internship, she didn't hesitate to apply for and take a job as an associate risk analyst at the 200-plus-year-old carrier in Connecticut, citing largely two traits that millennials seem to value highly – corporate responsibility and corporate culture.
Employees she met while interning were "casual and comfortable people" who were interested in engaging with their fellow employees, she said.
"I felt like I was going to a company that values those type of relationships," Zepp said.
That and it's perception as a green company made The Hartford, which has been recognized by government and advocacy groups for its sustainability record, a no-brainer for her.
There's no shortage of evidence that Zepp's is a typical millennial attitude about choosing jobs.
According to the Deloitte Millennial Survey 2016, nearly nine-in-10 polled believe that a company's success should be measured in terms of more than just its financial performance.
When asked "What are the most important values a business should follow if it is to have long-term success?" a significant number of millennials cited attention to the environment and social responsibility.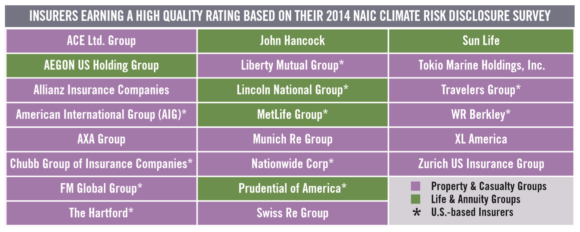 Deloitte's 2015 survey showed that millennials who are more likely than average to use social media in a personal and business context – those who like being in touch with the world – feel strongly that the purpose of business is to "improve society/protect the environment."
In that regard The Hartford earned high marks in a recent annual report by sustainability leadership advocate Ceres that assessed insurer disclosures on climate change risks.
The report, "Insurer Climate Risk Disclosure Survey Report and Scorecard," evaluated the quality of responses from insurance companies in the annual National Association of Insurance Commissioners Climate Risk Disclosure Survey.
Only 22 of all insurers studied – including 13 based in the U.S. – earned the "High Quality" rating. Hartford was one of those carriers.
The Hartford has taken advantage of such acknowledgements.
The Ceres report calls out a part of The Hartford's response to the survey in which the company discussed the role its branding as a green company plays in employee recruitment and retention:
"Competition in property casualty insurance is intense. Companies are constantly looking for ways to differentiate themselves in the marketplace. We believe that companies that themselves demonstrate a strong, comprehensive and sustained approach to environmental stewardship and offer appropriate products at the appropriate price can build a green insurance brand. Also, in the war for talent, companies that can demonstrate a serious commitment to environmental stewardship are better positioned to attract and engage talented employees."
Jay Bruns, head of environmental stewardship for The Hartford, said the carrier has marketed itself as green to potential employees for some time, and it has been actively working on improving its sustainability record for at least 10 years.
"Between 2007 and last year we reduced our greenhouse gas emissions a total of 57 percent," Bruns said.
This was accomplished, Bruns said, by enabling more employees to work from home – this happens to be another attraction for millennials, who attach the most importance to a good work/life balance when it comes to future career opportunities, according to Forbes – and encouraging alternative modes of transit to work, like biking or riding a bus.
Last year the company commissioned a major renovation to its campus, transforming its 1970s era buildings into energy efficient spaces, according to Bruns.
The Hartford in September was named to the 2016 Dow Jones Sustainability Indices for the fifth consecutive year. And in May the White House recognized The Hartford for achieving a 21 percent energy reduction over its portfolio of more than 2.4 million square-feet of office space since 2013 by installing high efficiency cooling and lighting equipment, taking advantage of building automation, upgrading elevator motor and control systems and optimizing building occupant density.
According to the company, since 2007 it has set voluntary goals to reduce greenhouse gases that have resulted in self-reported reductions in tons of CO2. The yearly reductions from 2007-2015 are:
232,724 in 2007
221,977 in 2008
206,895 in 2009
183,136 in 2010
170,462 in 2011
147,769 in 2012
127,814 in 2013
113,733 in 2014
100,959 in 2015
The company also reports it reduced total paper consumption from 1,850 metric tons in 2009 to 384 metric tons in 2015.
Some of these initiatives were steered by the company's environment committee, which is comprised of 18 leaders from across the enterprise.
And there's The Hartford environmental action team – giving them the apropos acronym HEAT – which consists of employee volunteers. A HEAT member is given a seat on the environment committee, which meets at least quarterly and reports to the company's executive leadership team.
"Bureaucratically it's been a wonderful way to keep the environmental stewardship agenda in front of an important group of people and keep driving it," Bruns said.
While Bruns was unable to provide official stats on how many people work at The Hartford because of its green rep, he did say numerous employees have told to him and other managers that it's a chief driver for them being there.
"More and more employees are not just interested in taking home a paycheck, they want to make sure a company they work for represents their values," he said.
This feedback has been significant enough to prompt the company to plan to begin collecting data through sustainability questions that will be added to an annual human resources survey of all of employees.
"We're now going to be able to track better how important this is and how our employees feel about what we do," Bruns said.
Asked for the latest example of something the company has done that Bruns feels represents The Hartford's commitment to sustainability, he pointed to an event last month in which the HEAT team hosted an electric vehicle test drive day.
During the event more than 400 employees test drove EVs. The EV movement is big at the company, which installed EV charging stations in 2010 and afterward began offering a premium discount for EV owners, he said.
"So it blends into our product offerings," he added.
Matt Sturdevant, assistant director of media and public relations at The Hartford, who helped set up the interviews for this report, was eager for it to be known that he too chose the company for its environmentally friendly bent.
Sturdevant joined The Hartford in 2015 after deciding to make his tour as a business reporter at the Hartford Courant his last stand in the newspaper industry.
As with many reporters exiting the journalism game, he sought communications opportunities, which typically present significant upgrades in pay and one's choices.
He could have gotten a PR job in higher education, manufacturing, or with any number of carriers, since one of his beats the Hartford Courant had him covering insurance.
"A few things that stuck out about The Hartford. One, it's a company that has been around for more than 200 years. That's a sustainable company, that's a company that knows how to stay in business for a long time," said Sturdevant, who evidently has a real aptitude for PR.
The Hartford's well-documented history of being recognized as a green company was the other big plus that brought him there, he said.
"This demonstrates over and over again that The Hartford is serious about addressing sustainability and climate change and about addressing environmental stewardship," Sturdevant said. "If you're going to spend most of your week doing something, it ought to be at a place that makes a positive change in the world, and I think that The Hartford does."
Editor's note: This is the first in a series of columns looking at carriers that are recognized as green and how they are benefiting from that.
Past columns:
Was this article valuable?
Here are more articles you may enjoy.