The Allstate Corp. agreed to acquire SquareTrade, a consumer electronics and appliance protection plan provider that distributes through many of America's major retailers. Allstate said it will acquire the privately-held company for approximately $1.4 billion from a group of shareholders, including Bain Capital Private Equity and Bain Capital Ventures, in a transaction expected to close in January 2017.
SquareTrade's plans protect mobile devices, laptops and tablets, and other consumer electronics and appliances from malfunctions, accidental damage and mishaps. It promises that its technology delivers "a zero hassle claims process."
SquareTrade, which was founded in 1999, has been growing fast and currently has 25 million plans in force, according to the announcement. The company is headquartered in San Francisco and London. It opened an additional office in Orlando, Florida in March.
"Allstate's consumer-focused strategy of providing unique products will be further enhanced with the acquisition of SquareTrade," said Tom Wilson, chairman and chief executive officer of the major personal lines insurer Allstate.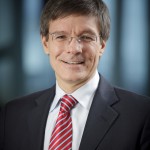 Wilson said SquareTrade has built "strong relationships with major retailers" including Amazon, Costco, Sam's Club, Target, Staples, Office Depot and Toys "R" Us — which will further expand Allstate's customer reach.
He said SquareTrade has seen a four-fold increase in revenue over the last five years. He declined to provide specific revenue numbers for SquareTrade but said they are in the "hundreds of millions" of dollars and that the firm earns good margins and is profitable.
"Allstate acquiring SquareTrade is exactly the right next step for the company," added Phil Loughlin, managing director, Bain Capital, which invested $238 million in SquareTrade in 2012.
Joining Allstate will enable SquareTrade to expand into new markets and products, according to Ahmed Khaishgi, co-founder and chief executive officer of SquareTrade. "With Allstate, we will gain a broad set of capabilities enabling us to further leverage our distribution, brand and team, while retaining our entrepreneurial spirit," Khaishgi said in the announcement.
SquareTrade claims that 57 percent of Americans report accidentally damaging electronic devices and spending $334 on average for repairs or replacements.
It offers protection plans for smartphones, laptops, tablets, televisions, home appliances, cameras and other devices. A SquareTrade protection plan for a new iPhone costs $89 for one-year and $179 for three years, according to the website. It also sells family plans.
According to a sample policy on its website, one of SquareTrade's underwriters is Starr Indemnity & Liability Co. WarrantyWeek, a publication for warranty managers, reported that SquareTrade also uses two CNA Financial units —CNA Warranty Services Inc. and Continental Casualty — as underwriters for its products.
In a call with investors, Allstate CEO Wilson said it is possible Allstate will take over the underwriting rather than SquareTrade continuing to outsource that service but that will depend on whether doing so makes sense for both Allstate and SquareTrade. He cautioned that it could also take several years for any current excess of loss insurance contracts to run out and new ones to be in place.
He also said he believes the Allstate brand can help SquareTrade grow. He said growth will come from adding additional retail outlets and possibly from international growth and he suggested that Allstate's own distribution force could play a role.
Allstate is the nation's largest publicly held personal lines insurer. Its auto, home and life policies cover 16 million households through its Allstate, Esurance, Encompass and Answer Financial brand names. Its offerings include auto warranty and financing products as well as roadside services.
This acquisition is the latest turn for Allstate in its drive to serve the new economy and connected consumers.
In August, the insurer established a separate telematics unit to help it take advantage of the disruption in the transportation industry. The new unit, called Arity, will collect data on drivers and sell analytic products to third parties.
Allstate also became the first major insurer to offer personal property protection targeted to the needs of home-sharing hosts.
Last month, Allstate debuted a hi-tech business insurance quoting platform that lets small business owners buy a policy in about five minutes. Allstate's site has ease-of-use, speed and transparency features that are touted by various insurtech startups trying to attract small businesses.
Allstate said it will acquire SquareTrade utilizing corporate cash and debt issuance, subject to market conditions, with no impact on Allstate's existing share repurchase program.
Ardea Partners, Lazard and Willkie Farr & Gallagher advised Allstate in the transaction, while Financial Technology Partners and Ropes & Gray advised SquareTrade.
Topics Tech
Was this article valuable?
Here are more articles you may enjoy.