Organic revenue growth among insurance agencies and brokerage firms fell in 2016 to 4.2 percent– its lowest annual rate since 2011.
The year ended on a positive note, however, as fourth-quarter organic growth outpaced the 3.6 percent recorded in the third quarter.
"The fourth-quarter uptick was among several factors that are making brokers optimistic that better days are ahead," said Kevin Stipe, president of Reagan Consulting, a management consulting and merger-and-acquisition advisory firm for the insurance distribution system.
He said brokers participating in Reagan Consulting's Organic Growth and Profitability (OGP) Survey are projecting 6.0 percent organic growth in 2017.
With property/casualty prices expected to remain soft for at least another year, faster economic growth will likely be necessary for brokers to achieve their expectations, Stipe said.
"Since 2013, broker organic growth has been levitating above weak GDP growth and declining P/C pricing," Stipe commented. "Organic revenue growth can't continue to defy gravity, so GDP will need to increase if brokers are going to achieve their growth goals."
For 2012, 2013 and 2014, organic growth exceeded six percent.
Group benefits has been outpacing commercial property/casualty in organic growth. Group benefits growth accelerated to 6.8 percent, versus 5.5 percent in 2015. On the other hand, commercial P/C declined again, falling to 3.3 percent from 5.3 percent the year before.
Agency profit margins, as measured by earnings before interest, taxes, depreciation and amortization (EBITDA) experienced virtually no change in 2016, at 20.0 percent. Operating margins, which have continued a three-year decline, fell to 12.2 percent in 2016. Unlike EBITDA, operating margins do not include contingent income, which represents a growing percentage of revenue for many agencies and brokerage firms, according to Reagan consultants.
Stipe cautioned that profit margins could shrink if contingent income returns to historical levels in the 7.0 to 7.5 percent range. In 2016, contingent income reported by participants in the OGP was 8.5 percent of revenue.
Reagan Consulting's survey uses submissions from 150 mid-size and large agencies and brokerage firms.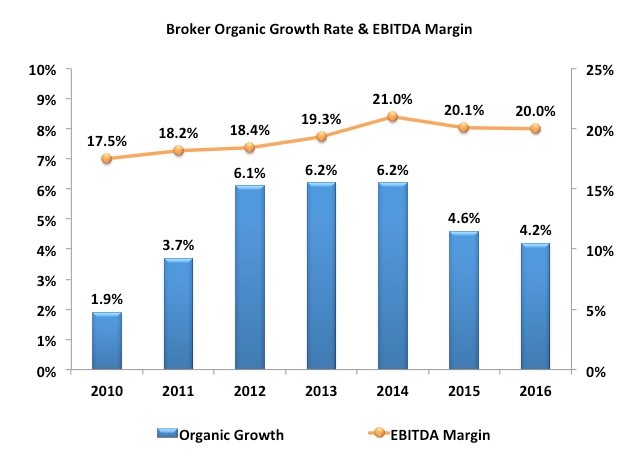 Was this article valuable?
Here are more articles you may enjoy.