There is a wide variation in the percentage of claims with worker attorneys involvement across state workers' compensation systems, according to the latest research from the Workers Compensation Research Institute (WCRI).
According to the study of 18 states, the percentage of claims with worker attorneys ranged from 13–14 percent in Wisconsin and Texas to 49–52 percent in New Jersey and Illinois, for 2013 claims with more than seven days of lost time and experience through March 2016.
The median of the 18 states was at nearly 30 percent.
The study, Worker Attorney Involvement: A New Measure, indicates system features may be responsible for at least some of the interstate variation. The report focuses on the two states among the lowest on this measure (Wisconsin and Texas) and the two states among the highest (Illinois and New Jersey), and discusses the system features that may be contributing to these states' results based on findings from WCRI's CompScope Benchmarks studies.
"This study helps inform policymakers and stakeholders about whether worker attorney involvement in their state is lower, near the middle, or higher relative to other states," said John Ruser, WCRI's president and CEO. "It also helps facilitate discussions about why workers' compensation systems vary in attorney involvement."
The different system features weighed by the authors include rules and procedures around rates and hours for attorney involvement, lump sum settlements, the administrative dispute settlement process, speed to first payment, and clarity of standards for awarding and terminating certain benefits.
The 18 states included in this study are Arkansas, California, Florida, Georgia, Illinois, Indiana, Iowa, Kentucky, Louisiana, Massachusetts, Michigan, Minnesota, New Jersey, North Carolina, Pennsylvania, Texas, Virginia, and Wisconsin. WCRI said it chose these states because they are geographically diverse, represent a range of system features, and represent the range of states that are higher, near the middle, and lower on costs per claim.
The analysis in this report uses data from 24 data sources, including national and regional insurers, claims administration organizations, state funds, and self-insured employers. The authors of this study are Rebecca (Rui) Yang, Karen Rothkin, and Roman Dolinschi.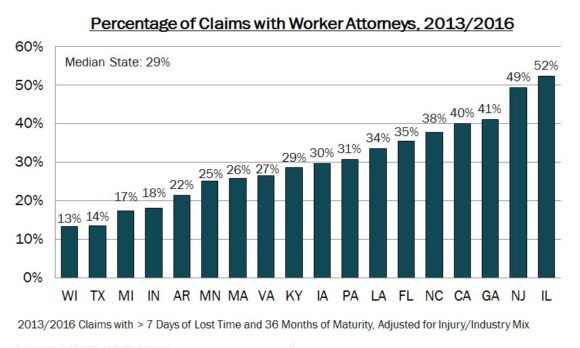 Was this article valuable?
Here are more articles you may enjoy.