Resilience Economics Ltd. seems poised to capitalize on climate change.
Cedent Ltd. this month launched the corporate finance advisory firm focused on climate risk with an initial $500 million of capacity from strategic partner Nephila Capital Ltd.
The joint-venture plans to use data science to structure climate risk capital solutions for prominent institutions and governments around the world with a focus of expanding outside of the energy sector.
The new firm will provide climate insurance, climate derivatives, climate risk financing swaps, contingent credit facilities and credit guarantees.
Products like weather derivatives are common in the energy sector, but not so much for sectors like retail, airlines and hospitality, said Michael Coles, founder of Cedent, a Hamilton, Bermuda-based investment management firm focused on the international insurance sector.
"If you read through earnings transcripts of public companies, you'll get a good sense of when weather is being disclosed as an impact on financial results there's very little analytical rigor being disclosed along with it," Coles said.
Barney Schauble, managing partner at Nephila Capital, an investment manager specializing in catastrophe and weather risk transfer solutions, which manages roughly $10 billion on behalf of institutional investors around the world, said the venture will serve sectors that have little understanding about the impacts of extreme weather events on their bottom lines.
"There's sort of a hole in that part of the market," Schauble said. "If you Google weather and earnings at any given point in time you can see that many companies … that they have concerns about this. We feel like the opportunity in the aggregate outside of the energy sector is very large."
According to Coles, more than 1,000 CEOs and CFO's of public companies so far this year have disclosed that adverse weather directly drove poor financial results on earnings calls with stakeholders.
He wouldn't discuss clients or potential clients, but Coles believes the Resilience Economics venture is literally the tip of the iceberg that could fill a large existing demand for these services.
"This could be in the future a $300 billion market," Coles said. "We're just a small step in the right direction for developing this market."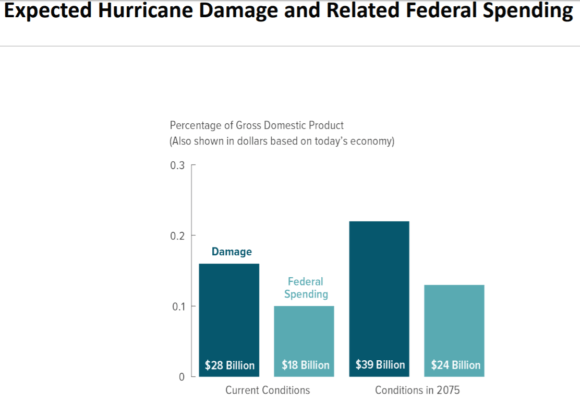 10 Million
Some 10 million Americans will be substantially affected by climate change by 2075, according to the Congressional Budget Office.
The CBO, which also predicts that federal disaster spending will grow to $39 billion annually in current dollars, from $28 billion now, last week issued a report titled "Effects of Climate Change and Coastal Development on U.S. Hurricane Damage: Implications for the Federal Budget Interagency Forum on Climate Risks, Impacts, and Adaptation."
The report takes into account: expected annual hurricane damage; long-run average under a given set of conditions; estimates based on current conditions and conditions in 2075; and expected annual federal spending on hurricanes.
"The projections generally showed increases in the most intense hurricanes," the report states.
The increase in mean expected damage consists of two components: climate change and coastal development. Those are $35 billion due to climate change, and $40 billion due to coastal development. The increase caused by the interaction of the two effects is $45 billion, the report shows.
Who's going to pay for all of that?
"To the extent that households, businesses, and state and local governments in coastal areas do not bear the full cost of hurricane damage, such growth is subsidized by U.S. taxpayers," the report states.
These shifting costs would increase incentives for private and public entities to take measures to limit expected damage.
Such a shift could be achieved by expanding flood insurance and raising premiums, increasing the minimum amount of statewide per capita damage used to determine when to provide federal assistance, and increasing that state and local cost share of assistance for projects receiving money from the Federal Emergency Management Agency's Disaster Relief Fund, according to the report.
"Expected damage from hurricanes will grow more quickly than GDP," the report states. "The share of the population facing substantial damage will grow fivefold by 2075. On the basis of past patterns, federal spending on hurricanes will also grow more quickly than GDP."
Ceres
Nonprofit sustainability advocate Ceres will lead a delegation of U.S. investors, companies and state lawmakers to the 23rd session of the United Nations Conference of the Parties, or COP 23.
"California Governor Jerry Brown, New York State Comptroller and Ceres board member Tom DiNapoli, and several members of the Ceres Investor, Company and Policy Networks are among the U.S. leaders headed to Bonn, Germany together with senior Ceres staff members for the next round of climate talk negotiations," Boston-based Ceres announced on Thursday.
Ceres and others from the U.S. will convene in the U.S. Climate Action Center from Nov. 6 – Nov. 17 to showcase climate actions and commitments to meet the goals of the Paris Agreement, "and to demonstrate America's ongoing resolve to reducing greenhouse gas emissions and fighting climate change while seizing economic opportunities tied to clean energy transition," the announcement states.
Events, which will be webcast, include:
Nov 10 – The Economic Case for U.S. Climate Action: Views from Congress and the Private Sector
Nov 10 – We Are Still In Welcome Reception
Nov 11 – The Business Case for Advancing Strong Climate Leadership and Policy in California.
Nov 11 – Climate Impacts and Resilience: A Conversation with American Leaders.
Nov 13 – Stepping Up for the Global Climate Action Summit
13 – COP 23 Global Climate Action High Level Finance for Climate Day
Nov 15 – Investor and Company Actions on Disclosure of Climate Risks and Opportunities
A Long, Long Ways
With the latest round of post-Paris international climate talks set to begin in Bonn, the New York Times is taking a look at how far the world remains "from preventing drastic global warming in the decades ahead."
The story cites data from the Climate Action Tracker that shows that no major industrialized country is currently on track to fulfill its pledge to curtail its greenhouse-gas emissions between now and 2030 as was laid out in the Paris deal.
"One year after the Paris Agreement entered into force, we still find ourselves in a situation where we are not doing nearly enough to save hundreds of millions of people from a miserable future," Erik Solheim, head of the United Nations Environment Program, told the NYT.
According to the article, while emissions from the U.S. power sector are falling rapidly as coal plants retire in favor of natural gas, wind and solar, other sectors, like transportation and heavy industry, have proven harder to clean up.
Former President Barack Obama set a goal during the Paris meeting of slashing the nation's emissions 26 to 28 percent below 2005 levels by 2025.
"For now, analysts think the United States will fall well short of its Paris pledge," the article states.
"That, in turn, could make it harder for future administrations to pursue the deeper emissions cuts by mid-century needed to help keep the world below 2 degrees of global warming."
Past columns:
Topics Catastrophe USA Climate Change Hurricane
Was this article valuable?
Here are more articles you may enjoy.