First there was the sharing economy, and then the gig economy. Now the buzz phrase to pay attention to may be "on-demand."
The on-demand economy, according to TheOnDemandEconomy.org, is defined as the economic activity created by digital marketplaces that fulfill consumer demand with immediate access to goods and services.
According to a new poll, ridesharing, or ride-hailing, drivers are getting into the on-demand economy in a big way.
The poll shows that nearly eight-in-10 rideshare drivers have signed up with two or more services, and we're not just talking about Uber and Lyft.
Postmates, DoorDash, UberEats and Amazon Flex, are other on-demand services in which rideshare drivers are partaking, according to a poll on the popular TheRideshareGuy blog.
The poll also shows nearly 18 percent of rideshare drivers were signed up for three services, while 6.9 percent reported being signed up for at least four services. Nearly 6 percent reported being signed up for five or more.
"An overwhelming majority of drivers are signed up with at least one other service like Lyft and many are starting to look at alternative options like delivering food for DoorDash or delivering packages for Amazon Flex," said Harry Campbell, a former engineer from the Los Angeles area who runs The Rideshare Guy blog.
This year's poll collected nearly 1,200 responses from drivers. The results are outlined in detail in the blog.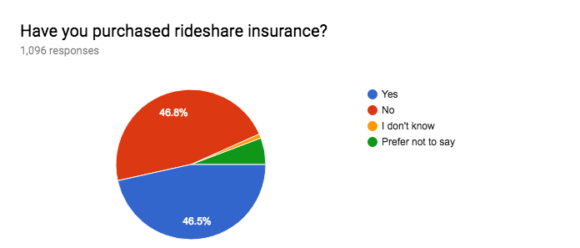 The poll also shows that some drivers seem to be getting the message that rideshare insurance is a good idea – although, if the poll is an accurate reflection of reality, it also shows that there are numerous drivers ferrying people around without the proper coverage.
According to the poll, 46.8 percent of drivers have not purchased rideshare insurance versus 46.5 percent who say they have. Roughly 6 percent of respondents answered that they preferred not to say.
"The one surprising thing is that a majority of drivers still have not purchased rideshare insurance, even though now almost every state has a rideshare product," Campbell said.
In the past it may have been difficult to find insurance that covers ridesharing or a carrier who offers a ridesharing endorsement for livery services on a personal auto insurance policy, but in every state in the U.S. you can find one or more carriers are offering rideshare insurance products.
"I believe every state now has at least one rideshare insurance option except upstate New York," Campbell said. "New York City requires UberX drivers to have commercial insurance and with the recent launch of UberX outside of NYC in upstate, there are still no options for rideshare insurance."
The prevalence of insurance for ridesharing may be a reason more drivers are obtaining the proper coverage. Last year's poll showed 33.3 percent of drivers had purchased rideshare insurance, while 58.3 percent said that they had not.
The uptick is good, but far from good enough.
Accidents are happening with rideshare drivers behind the wheel. The poll shows that one-in-five drivers have reported getting into an accident while driving.
How many of those were properly insured?
"Rideshare driving can be a dangerous job and the busiest times to drive like weekend nights and commuting hours are often when the most accidents occur," Campbell said.
The poll also shows that despite a down year in the press for Uber, more rideshare drivers on the service were satisfied with it.
More than 58 percent of Uber drivers reported being satisfied with their Uber driving experience, which is up markedly from the roughly half of Uber drivers (49.4 percent) who reported that they were satisfied with their Uber driving experience at the start of2017.
"That was kind of shocking to me, because Uber had one of the worst years in press possible," Campbell said.
Uber Technologies Inc. in February agreed to give roughly $245 million in stock to settle a high-stakes trade-secret theft lawsuit brought by Waymo, resolving a conflict that had already cost Uber its top driverless car engineer and threatened to further embarrass the company.
Uber settled another looming matter in January when a Los Angeles judge OK'd a $7.75 million deal offering 1.6 million California drivers an average of $1.08 each to resolve one of several U.S. lawsuits challenging the ridesharing giant's contractor-based business model.
At the end of 2017 it was discovered that hackers stole the personal data of 57 million customers and drivers from Uber, a breach that the company concealed for more than a year.
The big face-plant for Uber were claims of sexual harassment and discrimination and embarrassing leaks about executive conduct, which culminated in CEO Travis Kalanick resigning last year.
But all of that didn't appear to do much to dissuade drivers from increasingly liking the firm.
"I think what riders and drivers care about is that Uber works well," Campbell reasoned. "It is always very reliable in that you can always get online and you can always work."
Uber's press office didn't answer requests to comment for this story.
Lyft continued to have higher overall satisfaction and pay among their drivers compared to Uber, but the gap is narrowing, the poll shows.
Drivers who responded to the poll also felt strongly that they are underpaid, reporting they would like to earn roughly 31 percent more than what they currently are earning.
Uber drivers reported earning $16.90 per hour, nearly $1 per hour more than last year. In mid 2017, Uber added a tipping option and continued to offer lucrative weekly bonuses in many cities.
Lyft drivers reported earning $17.37 per hour, 47 cents per hour higher than Uber drivers. In 2017, the gap was $2 per hour so it appears that Uber drivers are gaining on Lyft drivers when it comes to earnings.
New drivers (those with fewer than 500 rides) reported earning just $14.74 per hour before expenses compared with experienced drivers (10,000-plus trips) who reported earning $20 per hour before expenses, according to the poll.
Pay and flexibility still top of the list when it comes reasons for being a rideshare driver.
Most drivers in the poll say the drive for Uber (58.7 percent), followed by Lyft and Uber equally (20 percent), followed by just Lyft (16.8 percent), followed by those who said they drive for other rideshare services (4.5 percent).
Bottom line: the poll reflects a changing ridesharing industry, along with a continually changing economy.
Expect more change in the rideshare world with word of Uber gearing up for an IPO.
"I think we're going to see a combination of Uber paying drivers less but probably charging riders more," he said.
Ubers losses rose 61 percent last year to $4.5 billion. That was up from $2.8 billion in 2016.
"It's clear that they can't do that forever, and I think in the next year or two they have to come down to reality and they sort of have to make the numbers work," Campbell said.
Related:
Topics Personal Auto
Was this article valuable?
Here are more articles you may enjoy.