When it comes to business growth, agents have their eyes on the same prize but different ideas about how to secure it. That's one of the key findings of "Agent Voices 2018," a soon-to-be-released report based on a survey of more than 5,000 of the nation's independent agents cosponsored by Channel Harvest Research and Insurance Journal.
Most respondents say they're interested in adding new carriers. More than three in five (62 percent) report an increase in agency revenue over the past year. Some 45 percent say they had a revenue increase of 5 percent or more. Roughly the same number report an increase in policies in force over the previous year (58 percent).
One way to increased revenue is to land bigger fish and the survey revealed a desire to pursue larger commercial lines accounts. Most respondents say they prospect smaller (54 percent) or middle-market accounts (29 percent) but 38 percent want to move into large accounts over the next five years, compared with only 8 percent who say they prospect large accounts today.
Many agents also hope to grow their top-line by cross-selling. Respondents generally reported having success in selling additional coverages and products to current customers. Nearly three in four (71 percent) respondents report success in cross-selling and bundling different products.
Among the reasons given for success in this area, agents said they make suggestions based on customer conversations and ask the right questions. Those who say they have difficulty cross-selling mentioned the time commitment and the limited appetite of their carriers.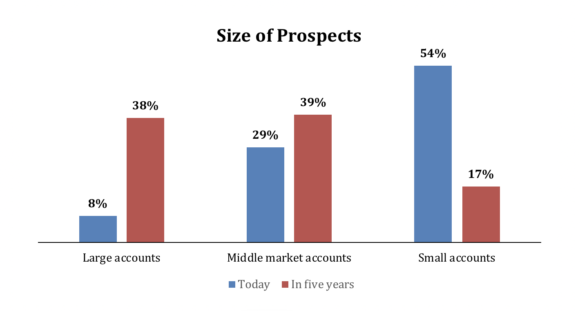 Risk Management Focus
"The economy has helped agencies grow, yet many are thinking longer-term about more aggressively carving a larger slice of the pie for themselves," said Josh Miller, research director at Channel Harvest. "For many, it starts with optimizing existing customer relationships. It's encouraging to see overall positive reactions to cross-selling as a best practice and having broader risk management conversations with customers."
In fact, many respondents want to focus more on risk management rather than limit themselves to insurance provision. When asked how they'd describe their organization, 62 percent say "insurance agency" is the most accurate description and only 15 percent call it a "risk management firm." Yet, 42 percent say they want to be known as a "risk management firm" five years from now.
The survey is co-sponsored by Insurance Journal and conducted between January 4 and March 16. Respondents ranging from principals to producers to CSRs answered nearly 140 questions about personal lines and commercial lines carriers. The survey was designed with input from an advisory panel of carriers including regionals, super-regionals and nationals
For more information and to purchase the report as well as the raw data, contact Ellen Wallace, director of industry relations at Channel Harvest Research, at ellen@channelharvest.com.
Topics Agencies Trends Risk Management
Was this article valuable?
Here are more articles you may enjoy.