Insurers can seize major growth opportunities by redesigning work, bringing in new talent, and pivoting their existing workforces to work with artificial intelligence (AI), according to a new repot by Accenture.
The report, Future Workforce Survey – Insurance: Realizing the Full Value of AI, maintains that insurers that invest in AI and human-machine collaboration at the same rate as top-performing businesses could, over the next five years, boost their revenue 17 percent and their employment 7 percent, on average.
According to the report – based on two surveys, one of 100 senior insurance executives and another of more than 900 non-executive insurance workers in 11 countries– the insurance workforce needs to be trained to collaborate effectively with AI. For instance, the executives surveyed believe that only one in four of their workers are ready to work with AI, and more than four in 10 (43 percent) cite a growing skills gap as the top factor influencing their workforce strategy.
A majority (61 percent) of the executives surveyed expect that the workforce of the future will be a blend of humans and machines. Contrary to the popular belief that AI will reduce jobs, two-thirds (67 percent) of insurance executives expect AI to result in a net gain in jobs within their company in the next three years.
Despite acknowledging a need for training, only four percent of insurers plan to significantly increase their investment in retraining programs in the next three years.
"AI has the potential to boost innovation, growth and efficiency, but insurers' hesitance to properly reskill their employees could limit its impact," said Michael Costonis, who leads Accenture's Insurance practice globally. "To complicate matters, despite having a business that is ripe to apply technology and innovation, insurers aren't in a good position to win the war on technology talent."
Costonis said executives need to "think pragmatically" about how they can bring in new talent and about redesigning jobs and retraining existing employees. He suggested creating more-flexible work environments could help attract new talent.
The report found that insurance workers are willing to embrace AI in their day-to-day roles. Two-thirds (68 percent) believe it will create opportunities in their work, while only four percent think it will create more challenges. Almost three-quarters (73 percent) believe it will make their jobs simpler, and more than two-thirds (69 percent) believe it will enable a better work-life balance.
New Workforce
The report maintains that the use of AI will reconfigure many existing jobs within insurance, and identifies three new categories of AI-driven jobs likely to emerge: "trainers," "explainers," and "sustainers."
Trainers will assist computers as they learn – for example, to recognize faces or identify images in photographs taken by drones – and play key roles in underwriting, claims and customer engagement. They will work with the systems to ensure that the algorithms accomplish their tasks in the manner and with the outcomes required.
Explainers will play a vital communications role, interpreting the results of algorithms to improve transparency and accountability for their decisions. If AI rejects a customer's insurance claim or offers a settlement, insurance workers can help dispel the "black box" perception of AI, helping to strengthen acceptance of AI among customers and regulators.
Sustainers will ensure that machines stay true to their original goals without crossing ethical lines, including drifting away from desired outcomes or reinforcing bias. Insurers might need to hire ethics compliance managers to ensure that an AI-powered claims assessment system does not discriminate against certain categories of customer.
"As more insurers look to integrate AI within their organizations, they should pursue a large-scale application in which humans and AI work together across a variety of tasks," said Andrew Woolf, the Talent & Organization lead within Accenture's Financial Services practice. "The benefits — including faster underwriting, quicker claims settlement and improved customer service — could be extraordinary, helping insurers solve complex challenges, break into new markets and generate new revenue streams."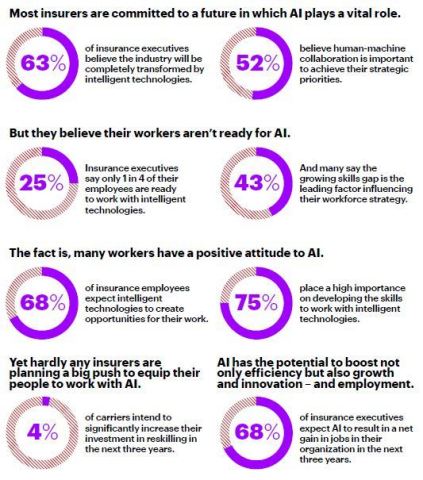 Was this article valuable?
Here are more articles you may enjoy.