James Anderson has assumed the role of executive vice president and chief financial officer at CNA.
He succeeds D. Craig Mense, who has been CFO since 2004 and who last April announced plans to retire at the end of the year. At that time, Anderson was identified as Mense's successor.
Anderson, who most recently served as senior vice president and head of Financial Planning and Analysis and Corporate Development, joined CNA in 2012 and has been a key member of the Finance leadership team since that time.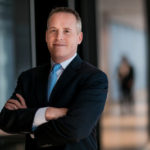 Before joining CNA, Anderson spent nearly a decade in investment banking focused on the insurance industry, ultimately as a managing director at Macquarie Capital. That experience followed five years of consulting at Eli Lilly and Accenture.
Chicago-headquartered CNA is the eighth largest commercial insurer in the United States.
Was this article valuable?
Here are more articles you may enjoy.