Independent insurance agencies just closed the books on a year in which profitability fell slightly but they continued to grow organically and each major line of business grew, according to the latest survey from Reagan Consulting.
Agencies surveyed in the 2018 Organic Growth and Profitability (OGP) survey generated organic growth of 6.1 percent in 2018 and are predicting record growth of 7 percent in 2019, says Kevin Stipe, president of the firm.
According to Reagan Consulting, growth in 2018 was driven by continued increases in U.S. GDP and commercial pricing.
For its survey, Reagan Consulting uses data from nearly 200 midsize and large agencies and brokerage firms.
In terms of profitability in 2018 for the group surveyed, earnings before interest, taxes, depreciation and amortization (EBITDA) margin dropped slightly to 20.2 percent, and contingent revenue, as a percentage of revenue, fell one percentage point. Despite the small drop in profitability, operating margin (which excludes contingent and bonus income) rose slightly in 2018, "implying that brokers and agents were successful in controlling their expenses," says Stipe.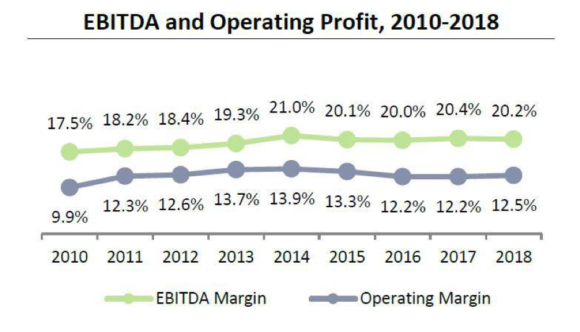 Among surveyed agencies, employee group benefits grew organically at a rate of 7.3 percent in 2018, more than two percentage points higher than last year.
Commercial lines' growth rate also increased by more than two percentage points for the year among surveyed agencies over 2017, as the median firm grew its commercial property/casualty business by 6.5 percent in 2018.
Personal lines business accelerated its growth rate for the third consecutive year to 3.9 percent.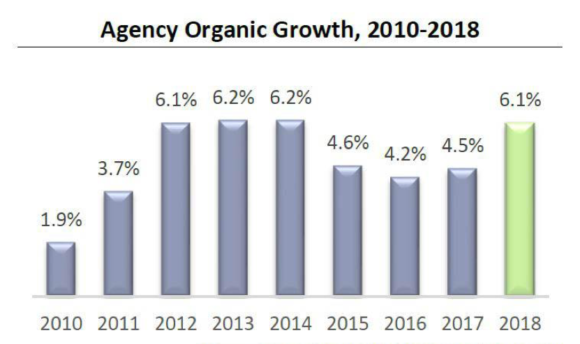 Stipe says many wondered whether mergers and acquisitions (M&A) activity could exceed its pace of 2017 but deal activity increased by another 7 percent, reaching 597 announced transactions in 2018. He says two drivers were "all-time high valuations and a heavy influx of acquisition capital to private equity-backed brokers."
Was this article valuable?
Here are more articles you may enjoy.