Whether technology is driving a "one size fits all" underwriting approach or carriers are narrowing their strike zone, this year's independent agency survey from Channel Harvest reveals agents continue to ding companies for lack of flexibility.
The latest Channel Harvest Research report, "Agent Voices 2019," notes that while most respondents say they're satisfied with their top carrier, nearly 1 in 5 say they're unsatisfied. That sentiment stems from dissatisfaction with their top company's underwriting flexibility, as well as compensation and training.
The research is cosponsored annually by Insurance Journal.
Personal lines agents are generally very satisfied with their top carrier's financial strength, technology and underwriting responsiveness – between 70 and 80% of respondents saying their top carrier is above average in those areas. However, opinions vary depending on what aspect of underwriting is under the microscope.
"When it comes to underwriting, agents are still looking for that sweet spot where their customers' needs align with their carrier's offerings," says Josh Miller, research director at Channel Harvest. "Even though they like their top carrier's responsiveness, they're not universally happy with that carrier's flexibility, as more than one in four told us it's only average and 12% say it's below average."
To get at the heart of what agents are looking for, Channel Harvest asks them about three attributes of underwriting: responsiveness, appetite and flexibility. This year three-fourths of personal lines agents (77%) rated their top carrier's underwriting responsiveness as above average, while 70% scored that carrier's appetite as above average while only 58% said that carrier's flexibility is above average. The numbers are consistent with past years' results: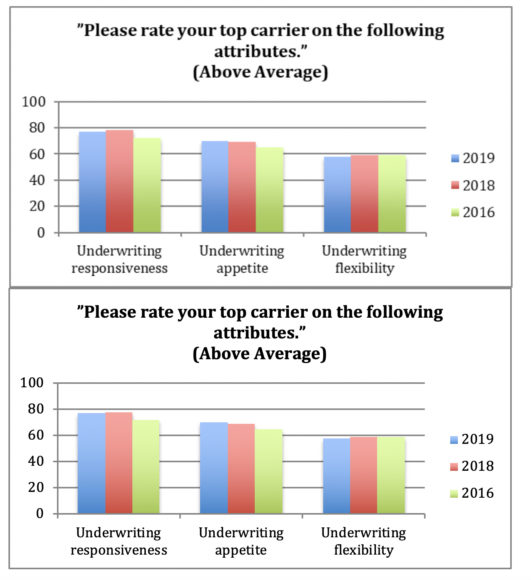 When asked what they look for when evaluating carriers, personal lines agents consistently named underwriting appetite, flexibility and responsiveness as important – second only to competitive pricing and claims service. Commercial lines agents ranked them in the top four and expressed similar frustrations with their carriers' underwriting flexibility.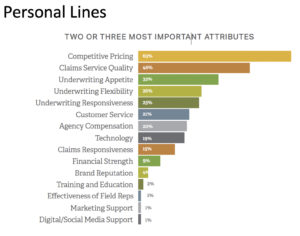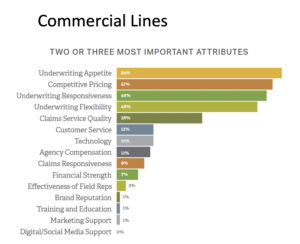 Each year Channel Harvest partners with carriers to pulse agents on company performance and other important issues. More than 6,400 respondents participated – from principals to producers to CSRs in both personal and commercial lines.
This year's carrier panel included Allstate, Amerisure, Encompass, Foremost, Hanover, Kemper, Liberty Mutual, Nationwide, Penn National, Progressive and Safeco.
This year's Channel Harvest survey goes into detail on succession planning, asking principals what they feel are the greatest challenges to a successful transition and areas where they feel they need the most help, such as finding and developing future leaders, incorporation and financial/tax issues. Details are available in the written report.
For more information on the report as well as the data containing all responses, contact Ellen Wallace, Channel Harvest's director of industry relations, at ellen@channelharvest.com.
Was this article valuable?
Here are more articles you may enjoy.