In the first half of 2019, the North American robotics market is up 7.2%. From January to June, North American companies ordered 16,488 robots, valued at $869 million.
For all of 2018, orders totaled 28,478, which was 16 percent more than in 2017.
The largest driver of the 2019 year-to-date growth has been an 83% increase in units ordered by automotive original equipment manufacturers (OEMs). Other industries that saw increases include semiconductor and electronics (12%), life sciences (8%), and food and consumer goods (3%).
These numbers were reported by the Robotic Industries Association (RIA), part of the Association for Advancing Automation, an industry trade group.
In the second quarter alone, North American companies ordered 8,572 robots, valued at $446 million. This represents a growth of 19.2% in number of robots ordered, and a 0.6% boost in dollars compared to the same time period in 2018.
"Robot use continues to grow, which is helping make U.S. companies more competitive and leading to new job growth," said Jeff Burnstein, president of the Association for Advancing Automation.
Last year saw the auto sector fall to 49% of orders, while other sectors surged. But the auto sector has come roaring back in the first half of 2019, accounting for 83% of the market.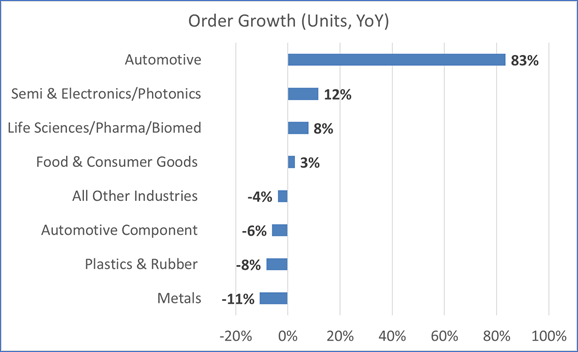 More than 180,000 robots have been shipped to American companies since 2010, according to the trade group.
A Brookings Institution report found that a quarter of U.S. jobs, or about 36 million, will be severely disrupted by the automation of existing work. Food services workers, short-haul truck drivers and clerical office workers are among those most likely to be affected. But while jobs will change as machines take over routine tasks, a majority of U.S. workers will be able to adapt to that shift without being displaced, the report concludes.
The rise in robotics has prompted the the Occupational Safety and Health Administration (OSHA) to consider updating the rules governing the use of machines in the workplaces. OSHA is requesting information about how employers have been using control circuit devices, including information about the types of circuitry and safety procedures being used; limitations of their use, to determine under what other conditions control circuit-type devices could be used safely; new risks of worker exposure to hazardous energy as a result of increased interaction with robots; and whether the agency should consider changes to the LOTO standard that would address these new risks.
Related:
Was this article valuable?
Here are more articles you may enjoy.