The Main Street America Group, a U.S. provider of property/casualty insurance through independent agents, has unveiled a new name and brand – Main Street America Insurance. The brand was announced in conjunction with product expansion in the company's commercial insurance markets.
Founded in 1923, Jacksonville, Fla.-based Main Street America Insurance offers a range of commercial and personal insurance, as well as fidelity and surety bond products, to individuals, families and businesses.
"Main Street America Insurance is a clear statement of who we are and what we do and aligns with our mission and vision to be a national multi-line brand in the independent agency channel by the end of 2024," said Chris Listau, president and CEO.
The company's new look incorporates the handshake symbol that represents partnership, trust and relat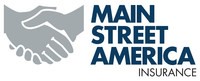 ionships formed in "Main Street" communities across America, the company said.
"It also signifies that Main Street America Insurance is a brand built on the strength of a rich history, marketplace stability and the company's focus on delivering products through independent agents," Main Street America's statement said.
Listau added the rebrand coincides with the company's offering new products in its commercial lines states through digital platforms designed to simplify the process for agents and customers. The new small commercial platform will soon be live in 31 states.
Since the beginning of 2020, the company has introduced its Main Street Express platform and product offering in 24 states, including Arizona, Connecticut, Florida, Idaho, Maine, Massachusetts, Michigan, Minnesota, Mississippi, Montana, New Hampshire, New Jersey, New York, North Carolina, Oklahoma, Oregon, Pennsylvania, Rhode Island, South Carolina, Utah, Vermont, Virginia, Washington and Wisconsin. The small business commercial lines platform enables independent agents to quote and issue a business owners, general liability and workers' compensation policies in minutes.
Deployment of the new platform and product lineup continues with seven additional states being added in early November, bringing the product launch to all 31 states in the company's commercial lines footprint.
Main Street America Insurance writes more than $1.1 billion in annual premium exclusively through independent insurance agents. In 2018, Main Street America merged with American Family Insurance.
Was this article valuable?
Here are more articles you may enjoy.