Shelter Insurance announced that Randa Rawlins would become Shelter Mutual Insurance Co.'s next president and CEO, effective Jan. 1, 2021, in anticipation of the retirement of current President and CEO Matt Moore, who will retire in June 2021.
Also, Paul LaRose will replace Rawlins in the role of executive vice president and Stacye Smith has been named vice president of Shelter's Human Resources Operations, effective Jan. 1.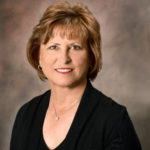 Moore said he is working closely with Rawlins to ensure a smooth transition. "We have worked together on redefining our vision and realigning our goals for the future. We are looking at 2021 and beyond, and Randa is helping develop those strategies," commented Moore.
Rawlins will become Shelter's 13th president and CEO during the companies' 75th anniversary year.
Rawlins is a native Missourian having grown up on a farm near Hale, Mo. A graduate of Truman State University and the University of Missouri – Columbia School of Law, she began her law career in Kansas City where she practiced insurance defense for 20 years. Rawlins returned to Columbia in 2002 to become Shelter's general counsel. She assumed the role of secretary of Shelter and its board of directors in 2006 before being promoted to senior vice president in 2016. In 2018, she was promoted to her current role as executive vice president and in July of that year became a member of Shelter's board of directors.
LaRose graduated from Rockhurst University and the University of Missouri – Kansas City School of Law, before joining the Missouri attorney general's office in 1985. He began his Shelter career in 1990 as a corporate attorney in the Law Department where he advanced to associate general counsel before assuming his current role as vice president of Shelter's Human Resources operations in 2012.
Smith is a graduate of Stephens College where she earned a Bachelor of Arts degree in Business Administration. She began her Shelter career in 1987 and has held several positions in underwriting, training, and human resources. She has been in management since 2005, where she has held the positions of manager of Sales Training, manager of Human Resource Programs, and director of Human Resources. On Jan. 1, 2020, she became Shelter's first director of Inclusion and Engagement.
Shelter Insurance is a group of companies with four personal lines property and casualty companies, a reinsurance company, a life insurer, and a direct internet marketing company. Shelter markets through Shelter Insurance, AmShield Insurance, Haulers Insurance, Say Insurance and offers auto, home, life, farm and business insurance in 21 states via 2,000 insurance agents and 2,100 employees.
Was this article valuable?
Here are more articles you may enjoy.