Spurred by a combination of financial hardship, a decrease in miles driven and a general lack of awareness of the historic relief efforts the industry initiated in 2020, auto insurance customer loyalty has given way to a nationwide surge in value-conscious shopping.
Accordingly, price-based leaders Progressive and GEICO have emerged as the carriers of choice, each capturing a 30%+ quote rate among all active purchasers since July – the highest among all brands according to J.D. Power's new shopping index.
This surge comes on the back of an impressive 2019 campaign for both brands, which captured 85% of all new premium growth industry-wide. Collectively, 57% of insurance shoppers cited rates as the primary factor triggering them to shop over the past six months – signaling a continued rotation among auto insurance consumers toward value-based messaging.
Michigan has served as a microcosm for this trend after changing its personal injury protection (PIP) laws in July and creating a catalyst to shop just as consumers were dealing with the full brunt of the pandemic. As expected, the state experienced a surge in shopping to nearly 1.5x the national average, creating a once-in-a-lifetime market disruption to an industry that otherwise enjoys a nearly 90% annual retention rate. As shopping activity spiked, Progressive was most able to capitalize, achieving an impressive 45% quote rate among all shoppers who ultimately switched to a new carrier.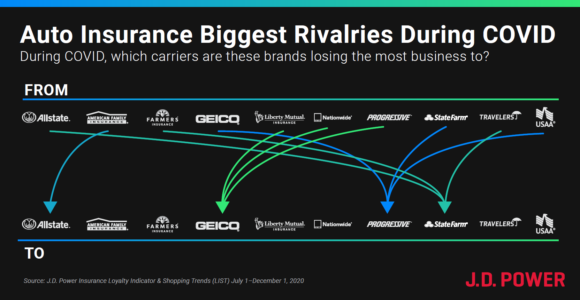 The outsized performance of both Progressive and GEICO during COVID was put in motion by several underlying macro and micro challenges, but four key factors stand out as the biggest drivers of recent customer behavior.
First, these carriers have enjoyed lower cost of acquisition advantages that afford them the opportunity to benefit from increased market churn. This is a trend that has been recognized for some time by traditional incumbents, such as Allstate, who announced another 3,800 layoffs on October 1, as part of their ongoing restructuring efforts to bring their overhead costs in better alignment.
Second, has been the underwriting advantages that allow these carriers to more accurately price premiums based on highly segmented underwriting capabilities. These advantages have not been lost on the industry, as the two largest acquisitions over the past year – State Farm's purchase of GAINSCO and Allstate's move to acquire National General – expanded their addressable market, likely influenced by Progressive's broad-based underwriting advantages, particularly in the non-standard market.
Third, consumers also have been underwhelmed by auto insurers during the crisis. Even though the industry sent consumers an estimated $18 billion in refunds, the industry as a whole received low marks from consumers for their response to the crisis. As of late March 2020, just as Covid-19 was beginning to impact the economy, 68% of auto insurance customers indicated that they were "very satisfied" with their auto insurance carrier. That number fell dramatically throughout the pandemic to just 56% at the end of August. The one bright spot for the industry has been among auto claimants that reported higher levels of satisfaction due to improved service delivery by claims operations that benefited from plummeting auto frequency.
The fourth compounding factor is ongoing challenges with the agent channel. More than one-third (36%) of independent agents reported they were unaware of their carriers' efforts during the pandemic, according to the newly released J.D. Power Agent Performance and Satisfaction Study. This highlights a clear breakdown among carriers to translate corner office decisions into front line execution. Agents, too, carry some of the blame by falling short in leveraging their strategic advantage during the pandemic. Only 42% of independent agent customers say they were contacted to help manage their policy costs during the crisis vs. 52% of direct customers who say the same. The high-touch, personalized experience –the space where local agents have traditionally excelled—did not materialize for many during the crisis.
It has not been entirely all good news for Progressive and GEICO either. While achieving outsized performance in attracting new business, they continue in their struggle to retain business on the back-end. Both carriers had the highest rate of shopping among profiled carriers, suggesting that a trendy brand, and a competitive price may not be enough to win customer loyalty.
Overall, the increased pricing pressure for the average U.S. households combined by an underwhelming performance by U.S. auto insurance carriers motivated consumers into seeking alternatives. The crisis has thrown what was already a highly competitive auto insurance market for consumer courtship into over-drive. The question now for the industry is whether this trend will be a temporary jolt due to the pandemic, or if this will become part of the 'new normal.' Only time will tell, but in the interim, value-based carriers are seizing the opportunity and leaving their competition in the dust.
Was this article valuable?
Here are more articles you may enjoy.