As the country hits the one-year mark of the arrival of COVID-19, auto insurance industry trends are beginning to show a return to the pre-pandemic baseline, which will further intensify the ongoing customer acquisition war.
As consumers hunkered down under stay-at-home orders last spring, with their mobility limited and their bank accounts braced for financial uncertainties, they embarked on a flurry of auto insurance shopping activity. According to J.D. Power's new real-time shopping tracker – Loyalty Indicator and Shopping Trends (LIST) – shopping activity surged as high as near 20% in the early part of the pandemic, as customers looked to cut expenses.
But in the months since, shopping has returned to pre-pandemic levels.
What's behind the slowdown? It's likely a combination of factors that include consumers becoming more bullish about their financial outlook, coupled with customers awaiting indicators of "normal" after making policy changes last year. It's an encouraging sign for an industry that has historically enjoyed high retention rates. But with customer shopping patterns stabilizing at the national level, acquisition battles will increasingly shift to the states.
Battleground States
To that end, there continues to be a strong rise in overall shopping in select markets across the country. Looking at shopping activity by region confirms that the South and Southwest are becoming key battleground regions. This is an indication that consumer shopping activity is largely following population migration trends southward, (with the exception of states like Michigan which experienced a spike due to a change in PIP laws last year), creating a new challenge for regional-based carriers particularly in the Northeast and Midwest.
How each carrier is positioned across these key geographical markets may provide an indication of future movements across the property/casualty insurer leaderboard. Overall, during the last three months, GEICO has captured the most quote activity in 18 states, followed closely by market share leader State Farm (16), Progressive (7), and Allstate (3).
However, when examining acquisition patterns within each state, a more complex story begins to emerge.
Consider the battleground state of Texas, where market leadership is separated by less than two points among the top four auto insurance carriers. Based on shopping patterns over the last three months, Allstate has moved to the front of the pack, capturing nearly 28% of all quote volume during that period. Allstate has performed particularly well in select metro areas such as metro Dallas – Fort Worth area, where its share is even higher. Capturing the Lone Star State would be a key pick-up for Allstate given the state's market size and growing population trends.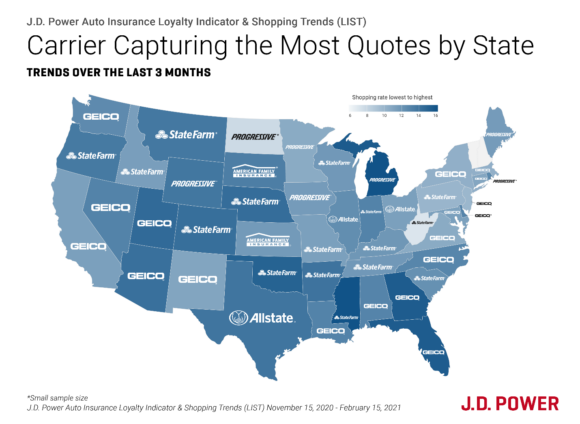 Moving further West and Southwest, there is what appears to be an impressive trend for GEICO. The East coast-based insurance giant is continuing to gain ground out West – namely in California, Arizona and Nevada. The gains that GEICO has made within the state of California have been significant, outpacing the nearest competitor by nearly 3% in quotes over the past 90 days.
GEICO is also seeing gains in select Southeastern markets. Georgia, which has been a stronghold for State Farm in years past, sees GEICO experiencing outsized growth within the state. Over the last 90 days, GEICO has captured nearly a quarter of all quote volume in a state where State Farm controls nearly one-third of total auto premiums.
Lastly, an examination of Progressive's performance shows strong gains in markets experiencing higher shopping activity, such as #2 in Florida and #1 in Michigan. Michigan's shopping holiday remains above historical averages, but seems to be returning to more normal levels after skyrocketing last year due to a combination of factors brought on by the pandemic and, more notably, a change in the state's personal injury protection laws. State Farm and Progressive are engaged in a tight battle for the top spot, after an early surge by Progressive.
As national shopping activity stabilizes in 2021, it sets the stage of another big pivot for insurers to local markets in their battle for customer courtship. With the major disruptions of the pandemic likely in the rearview mirror, carriers will have to get aggressive about ramping up local market intelligence to remain competitive, while retaining the policyholders they may have acquired during 2020's switching frenzy. It could make this year a landmark event in the battle for auto insurance supremacy.
Topics Auto
Was this article valuable?
Here are more articles you may enjoy.