Private property/casualty insurers in the U.S. saw their net income after taxes increase significantly in the first quarter to $20 billion from $17.9 billion in the first quarter of 2020. Growth was fueled, in part, by an increase in realized capital gains and a modest rise in earned premiums from a year earlier, according to a report from the analytics firm Verisk and the American Property Casualty Insurance Association (APCIA).
At the same time, insurers' overall and underwriting profitability deteriorated. The industry's combined ratio – a key measure of underwriting profitability – worsened to 96.1 for the first quarter 2021 from 94.9 in the first quarter of 2020, Insurers also saw a modest dip in their annualized rate of return on average policyholders' surplus to 8.7% in first quarter of 2021, from 8.8% a year earlier.
With 2.3% growth in earned premiums, insurers reported $3.3 billion in net underwriting gains for the quarter—a 46.7% decrease from the $6.2 billion for first quarter of 2020.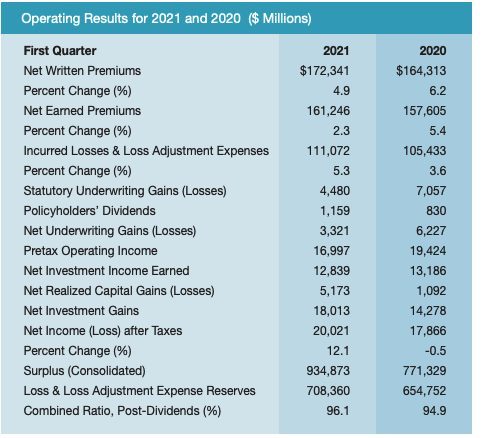 Net written premium increased 4.9% in first-quarter 2021 to $172.3 billion from $164.3 billion for first-quarter 2020.
The industry's surplus as of March 31, 2021, was $934.9 billion, an increase from $910.2 billion as of December 31, 2020, and a new record.
The figures are consolidated estimates based on reports accounting for at least 96% of all business written by U.S. property/casualty insurers.
Extreme Events
The first quarter of 2021 was notable for the significant catastrophe losses and loss adjustment expenses (LLAE), especially from severe winter storms in Texas. Insurers experienced $16.3 billion in net catastrophe LLAE for the quarter, up sharply from $6 billion in the first quarter of last year.
The industry's overall LLAE grew 5.3% to $111.1 billion, other underwriting expenses rose 1.3% to $45.7 billion, and policyholder dividends increased to $1.2 billion. The jump in catastrophe LLAE was partially offset by a decline in other LLAE and by more favorable LLAE reserve development than in 2020, helping insurers avoid underwriting losses.
Neil Spector, president of ISO at Verisk, zeroed-in on the losses from severe weather. "Those catastrophe losses are a stark reminder that even as we emerge from the pandemic, challenges may lie ahead," he said.
According to Robert Gordon, APCIA senior vice president, those challenges include "significantly increasing" inflationary costs and uncertainty over long-term pandemic liabilities with continued growth in COVID variants globally and unknown medical costs for long-haul COVID victims. Also, the forecast calls for above-average hurricane activity this year.
Gordon noted that while insurers survived pandemic challenges in 2020, this year began with a record freeze in Texas, extreme tornadoes and floods, an unprecedented heatwave in the West and wildfires that are on track to exceed 2020's record. He said reserve releases for prior years' business "accounted for virtually all" Q1 underwriting gains, while "slowing premium growth was unable to keep pace with spiking losses and loss expenses."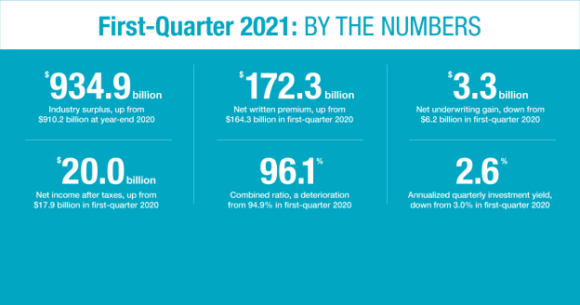 Source: Property/Casualty Insurance Results: First-Quarter 2021

Top Photo: The Blanco Vista neighborhood of San Marcos was blanketed with several inches of snow in February as a massive winter weather system caused power outages across Texas. Photo: Jordan Vonderhaar for The Texas Tribune
Was this article valuable?
Here are more articles you may enjoy.