In an effort to continue its commitment to promoting diversity, equity and inclusion in the insurance industry, the Wholesale and Specialty Insurance Association (WSIA) recently hired Vanessa Sims as its first director of DE&I.
According to the association, Sims will help support and develop diversity initiatives and programs, and be a resource to the board of the WSIA Diversity Foundation, which launched in the fall of 2020 and has since raised more than $2.6 million for its efforts.
Though she's a newcomer to the insurance world, Sims has experience in the financial services industry, including her most recent role with UMB Financial Corp., and she has spent nearly the last seven years focused on DE&I work.
In an interview with Insurance Journal at the recent WSIA annual convention, Sims said her decision to take on the role came down to the association's "obvious and clear commitment" to DE&I initiatives and its ability to make an impact on a broader scale.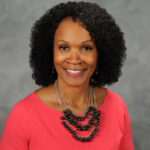 "It was appealing to me because it's not just impacting one company, or one organization," she said. "It's impacting an ecosystem of the insurance industry."
Among Sims personal goals in the new position is to ensure that the industry reflects the changing and diverse world. She said this includes looking at the current representation within organizations and introducing more college students, particularly those at historically black colleges and universities (HBCUs), to the insurance industry.
She will also focus on how the industry's current workforce is being developed and the opportunities available to them, and creating a more inclusive workplace culture.
"We can attract that diverse talent all day, all night, 365 days a year. But if we don't have a culture where people feel like they're respected, valued, they belong, they can contribute, they're heard, they will either physically leave, or they will stay and check out," she said. "We want people and our talent to feel like they can contribute and they have a path forward within our organizations and within the industry."
Another goal of Sims and the WSIA Diversity Foundation is to increase awareness of DE&I topics through educational programs that help others understand and appreciate the different experiences everyone brings to the table, she said. And to foster more inclusive leadership where leaders recognize what it means to be inclusive and why it's important.
"I'm not saying we are shaking our finger in anybody's face, or wagging our finger and saying 'you've done this wrong, you're a bad person' … but 'here's how we can enhance what you already bring to the table as a leader in our company to create an inclusive workplace,'" she said.
Accountability
The industry as a whole must be accountable, as does everyone else involved at the company level, in order to really drive change, she said, adding it is not enough to hire a DE&I person and expect them to figure it out and implement changes on their own.
"Our leaders have to make sure they're setting the appropriate expectations, holding people accountable for the outcomes that are expected, and really driving home that it's all of us together," she said.
The large number of industry retirements expected in the next few years is an example, she said, of how the industry needs to get comfortable doing things differently in terms of recruiting and attracting new people to the workforce.
The young professionals that the industry needs to fill that "talent gap" are looking at companies and whether they are "walking the talk" she said. That can be a distinguishing factor when young people are choosing among organizations, she added.
"If we make a statement, if we have a value statement, if we have a position that we're taking on something, our actions demonstrate that we're honoring what we've said," she said. "That is something that any organization needs to be critically aware of and take seriously because it's not just what you say, it's what you do."
From a societal standpoint, Sims said the industry should look to identify and eliminate barriers for those who are either underinsured or uninsured. She sees a need for the industry to educate and build trust in the communities facing those challenges, as well as invest in organizations that are combating racism, inequality and poverty, which is something she and WSIA can work on as well, she said.
Sims said she is prepared for the challenge of getting people to realize that, "Yes, change is not comfortable, but we have to get comfortable with being uncomfortable." On the other hand, there are people that want to see big changes quickly, but that won't be the case, she said, these types of movements are a journey.
"Long-term sustainable change takes time; if it's going to stick it's going to take time. Changing our habits, re-examining the way we've always done it, and what can we change about this to change the outcome for the future," she said. "Whether it's in how we hire people, how we decide to progress people within organizations, it has to be looked at through a DE&I lens, as opposed to the way we've been comfortable doing that over the years."
Based on the conversations she has had so far with leaders in industry organizations of all different sizes, however, Sims said there is a recognition of the importance of DE&I and optimism for the future.
Though the outcomes aren't yet evident, she said there is a willingness to listen to what can be done and a desire to work together to make it happen.
"That is half the battle … being open and embracing the opportunity to affect change is the first step," she said. "This organization, and our member firms realize that we do want to go far and we have to go far. And I feel that and believe that we want to go together."
Topics Excess Surplus
Was this article valuable?
Here are more articles you may enjoy.