Hurricane Fiona strengthened as it moved away from Puerto Rico and the Dominican Republic where it knocked out power and spawned flash floods and landslides from torrential rains.
(Editor's Note: This article contains was updated on Sep. 19, 5:50 p.m. and does not contain information about storm activity on Sep. 20, when strength was estimated at a Category 3 hurricane)
Fiona's winds reached 100 miles per hour (161 kph) as it spun northwest at 10 mph toward the Turks and Caicos Islands, according to National Hurricane Center advisory at 5 p.m. Eastern time. Storm warnings were dropped for Puerto Rico and downgraded across the Dominican Republic.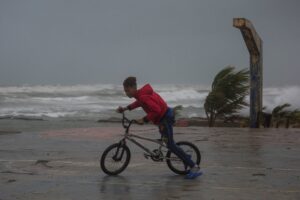 Even with Fiona moving north, heavy rain was still forecast for Puerto Rico, the US and British Virgin Islands and parts of the Dominican Republic.
"These rains will continue to produce life-threatening and catastrophic flooding along with mudslides and landslides across Puerto Rico," Richard Pasch, a hurricane specialist at the center, wrote in his outlook. "Hurricane conditions are expected in the Turks and Caicos beginning late tonight or early Tuesday."
See also: Tracking Fiona's Latest Path
The entire electric grid in Puerto Rico failed after Fiona came ashore as a Category 1 hurricane Sunday, but power is now being restored to its 3.1 million residents, with priority given to hospitals and critical infrastructure. Josue Colon, executive director of the Puerto Rico Electric Power Authority, said Fiona triggered an automatic shutdown of power plants.
Read more:
Several rivers across Puerto Rico have exploded over their banks. Rio Guanajibo near Hormigueros rose nearly 18 feet in about 16 hours since Sunday, while Rio Cibuco at Vega Baja rose more than 10 feet, according to the National Weather Service.
Damage could reach beyond $2 billion in Puerto Rico and an additional $1 billion to $2 billion in the Dominican Republic, Chuck Watson, a disaster modeler for Enki Research, said on his blog.
Fiona is the sixth storm of the 2022 Atlantic hurricane season and the first to cause widespread damage. While preseason forecasts called for an active season, so far the few storms that have formed have either been weak or too far out in the Atlantic to cause any lasting destruction.
The hurricane is forecast to become a Category 4 system with winds of 130 mph by Wednesday. It could menace Bermuda late Thursday and hit Newfoundland and Nova Scotia by this weekend.
–With assistance from Jim Wyss.
Copyright 2022 Bloomberg.
Was this article valuable?
Here are more articles you may enjoy.