The independent agency channel is holding ground and showing slow, steady gains in lines of business penetration, including homeowners, according to the Big "I" 2023 Market Share Report.
Based on 2022 data, this year's report points to the growth of the independent agency channel, which places 63% of all property-casualty insurance written in the U.S., an increase of 3% over the past five years' average penetration rate.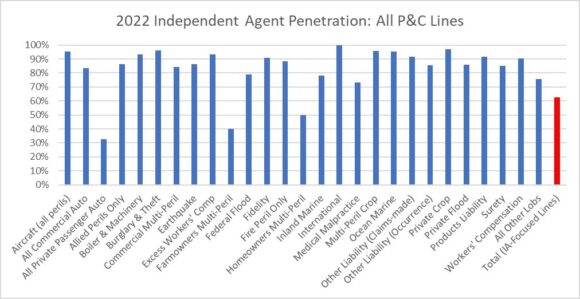 While the independent agency channel held steady in commercial lines, placing 87% of all commercial lines written premium, it grew its share of personal lines written premium—38% in 2022, up from 37% in 2021—continuing a trend of growth in personal lines over the past five years. In particular, independent agencies saw gains in the homeowners line of business, up to 50% in 2022 from 46% in 2018. Direct written premiums reached $861 billion in 2022, up from $785 billion in 2021.
Independent agencies have also seen growth in surplus lines, with a 9% utilization rate in the past year compared to an average of 7% over the past five years. Private flood surplus lines in particular has seen a large jump, with a 45% utilization rate in 2022 compared to 36% over the past five years. This correlates to a hardening market and carrier withdrawals.
"Looking at the past five years, the independent agency channel is gaining ground slowly but steadily, with no material losses in any area seen in 2022's data," says Jennifer Becker, Big "I" senior director of agent development, research and education. "As we begin to see signs of a hardening market, independent agencies are facing the challenges head-on as trusted advisors to their customers."
The annual report compiles and analyzes property and casualty premium data from AM Best and provides insights for agencies and carriers on current market shares by distribution types.
Topics Agencies
Was this article valuable?
Here are more articles you may enjoy.