The total net underwriting loss of $24.5 billion for the U.S. property/casualty industry after the first six months of 2023 is $2 billion less than total losses recorded for all of 2022, according to a new AM Best report.
Catastrophe losses added 9.6 points to the industry combined ratio, which AM Best estimates at 104.5 for the first six months of 2023, according to the report titled, "First Look: 6-Month 2023 US Property/Casualty Financial Results."
A year-to-year comparison in the report shows that last year's first-half combined ratio of 100.2, included 5.6 points attributable to catastrophe losses.
The overall combined ratios for both six-month periods included a few points of favorable prior-year loss reserve development—1.4 points this year and 1.8 points in 2022, according to breakdowns presented in the report.
AM Best analysts said the personal lines segment, specifically the homeowners line of business, was primarily responsible for the decline in underwriting results.
"Secondary perils continued to drive poor loss experience as we see in the catastrophe losses for the first half of 2023." said Christopher Graham, senior industry research analyst, AM Best.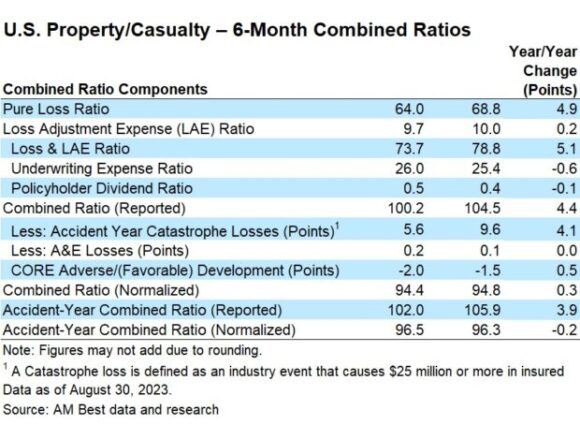 The $24.5 billion underwriting loss in the first half of 2023 compares with $6.6 billion for the same prior year period, underscoring "the ongoing headwinds such as rising loss costs, above average catastrophe activity, and adverse trends in personal auto, that U.S. P/C insurers face," AM Best said.
During the period, net investment income declined 8%. Together the higher underwriting loss and lower investment income results drove pre-tax operating income down 69.5% to $9.4 billion, in the first half of 2023, according to the report.
A 40.7% drop in realized capital gains pushed net income down 71.9% to $8.8 billion, according to AM Best's preliminary figures.
Still the U.S. P/C industry's surplus increased 6.7% from year-end of 2022, with unrealized capital gains helping to push total surplus up over $1 trillion—to $1.05 trillion.
The report also show direct premiums by line of business for 2023 and five prior six-month periods. Net of reinsurance, overall premiums for the U.S. P/C industry grew 9.7%, the report shows.
The preliminary results set forth in the AM Best report are based on data from companies whose six-month 2023 interim period statutory statements were received as of Aug. 30, 2023. These companies account for an estimated 98% of total industry net premiums written and 98 percent of policyholder surplus.
Was this article valuable?
Here are more articles you may enjoy.