Former CSAA CEO Troy Joins USAA
USAA has selected former CSAA president and chief executive Tom Troy as its chief transformation officer. He will start Sept. 25 and report to CEO Wayne Peacock. This newly created position will lead USAA's transformation initiatives and corporate development team.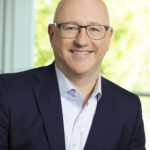 Troy's career spans more than 30 years and several major insurance carriers. Prior to CSAA, Troy was an executive vice president at Allstate, where he oversaw a multi-billion portfolio of the insurer's non-Allstate brands, including Esurance, Ivantage, Encompass and business insurance. He also previously served in a variety of executive vice president roles at Liberty Mutual and held senior leadership positions with Safeco Insurance.
"USAA is making significant investments to transform our capabilities, processes, infrastructure and the way we work to ensure we're prepared to meet our members' needs today and into the future," said Wayne Peacock, USAA president and CEO. "Tom is a proven business leader with a deep family history of military service, enabling him to serve our members with empathy and guide our future-focused initiatives with excellence.
Big 'I' Installs McBride as New Chairman for 2023-24 Term
The Independent Insurance Agents & Brokers of America (the Big "I") installed Michigan's Mike McBride, president of Mason-McBride in Troy, as the 2023-2024 chairman at the recent Big "I" Fall Leadership Conference in Grand Rapids, Michigan.
With over 35 years of experience in insurance and financial services, McBride is the former Michigan director on the national association board. He previously served as chair of the Trusted Choice® board of directors and, more recently, as its executive committee liaison. He has also been a member of the technical affairs committee. He was elected to the Big "I" executive committee in 2017.
Along with McBride's installation, Todd Jackson, McGowan Insurance Group, Indianapolis, Ind., was sworn in as Big "I" chairman-elect, and Lou Moran III, Inter-Agency Insurance Service, Knoxville, Tenn., became vice chair. McBride succeeds chairman John Costello, senior vice president at USI Insurance Services in Rochester, N.Y., who will remain on the Big "I" executive committee for an additional year as immediate past chair.
Dagostino Named AXA XL Global CUO, Commercial Lines
AXA XL today announced the appointment of Anthony Dagostino to a newly created role of global chief cyber underwriting officer, commercial lines. Dagostino will report to Libby Benet, AXA XL's chief underwriting officer.
Dagostino joins AXA XL from Converge, a cyber insurance and risk management provider which he founded. He brings more than 20 years of cyber insurance experience to this new role and will lead a team tasked with creating product and service solutions for cyber risk transfer for commercial clients of all sizes, establishing a clear risk appetite and globally consistent cyber underwriting guidelines, managing aggregation risk, assisting in the recruitment and development of cyber talent, and developing prevention and recovery services for AXA clients.
Topics Cyber Agencies Commercial Lines Michigan AXA XL Independent Agencies
Was this article valuable?
Here are more articles you may enjoy.