Nationwide has hired Kristina Talkowski from CNA to head up its middle market commercial lines business. Starting Oct. 16, she will be tasked with executing Nationwide's long-term commercial lines insurance strategy for mid-sized businesses.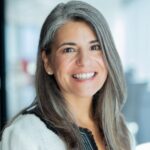 Talkowski has 20 years of insurance expertise, most recently as senior vice president of middle market segments at CNA, where she was responsible for growth strategy, underwriting guidelines, and execution of CNA's middle market industry specialization. Before CNA, Talkowski was at similar roles with Chubb Group and Liberty Mutual Insurance Group.
Hub International Adds Showalter as Head of Service and Client Experience
Broker Hub International announced it added Eric Showalter as senior vice president and head of service and client experience for Hub Private Client.
Showalter will be collaborating with the HUB Private Client team to innovate and execute a service and client experience strategy that will leverage internal expertise, enhance efficiency and reduce friction in the Private Client experience.
For the last 11 years, Showalter was head of service delivery and customer experience for CareFirst Blue Cross Blue Shield. Prior to that role he led service delivery for Ticketmaster in the U.S.
Was this article valuable?
Here are more articles you may enjoy.