Baseball size hail hit Abilene, Texas, on April 24 causing property damage to vehicles, homes and businesses. Hail fell from a line of storms that passed over the southern half of the city and continued to move eastward all the way to Fort Worth.
An Abilene fire station located two miles south of downtown Abilene reported 3 and 1/2 inch hail which was accompanied by heavy rainfall and reports of tornadoes in the west Texas region. Golf ball size was reported as the storms moved eastward into Stephens County, Weatherford and Lake Worth just north of Fort Worth. (See HailWatch map below)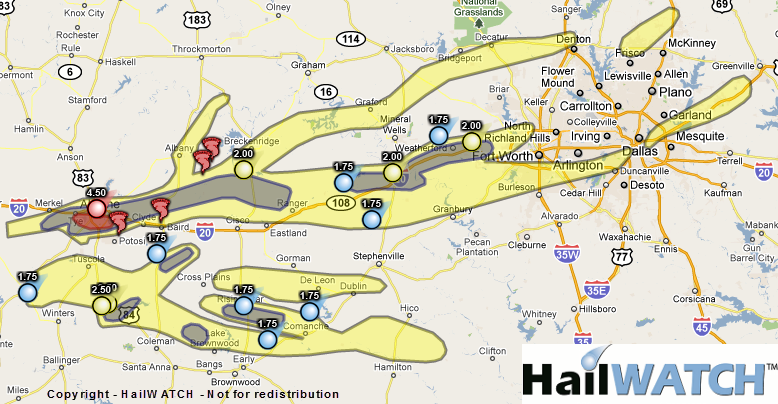 "The storms moved over the Possum Kingdom Lake area bringing some much needed relief to firefighters, but it might not have been enough for this week's forecast for the return of high winds," said Mark Hanna, a spokesman for the Insurance Council of Texas. "Insured losses for the homes and vehicles lost in the Possum Kingdom wildfire have been estimated at $150 million."
At least 160 homes and two churches have been destroyed in the fire in the Possum Kingdom Lake recreational area, about 70 miles west of Fort Worth.
National Weather Service forecaster Joel Dunn said on April 25 that 60 to 80 vehicles outside the Mall of Abilene had their windshields broken by the large hail.
Dunn says a tornado was confirmed Sunday afternoon in Callahan County, near Baird. Another tornado was reported about 3 miles north of Potosi. Dunn says fire department personnel reported a third tornado north of Moran, in Shackelford County. No damage was immediately reported.
Sources: Insurance Council of Texas, Associated Press
Topics Catastrophe Natural Disasters Texas Windstorm Wildfire
Was this article valuable?
Here are more articles you may enjoy.