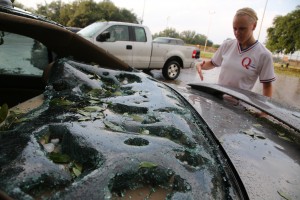 Insured losses from the massive hailstorm that struck the Dallas area on Wednesday could reach as much as $2 billion, making it one of the most costly storms of its type in U.S. history, an insurance organization said on Friday.
The Southwestern Insurance Information Service (SIIS), a trade group that speaks for property insurers in Texas and Oklahoma, said members have already classified the storm as catastrophic.
The storms were the worst in the area in at least nine years, the National Weather Service said this week. Baseball-sized hailstones smashed everything from car windshields to a theater marquee, though no serious injuries were reported.
If the SIIS forecast is right, it could be one of the United States' worst storm losses, excluding hurricanes.
According to the Insurance Information Institute, over the 20 years ending in 2010, total hail, wind and flood losses nationwide were just $14 billion.
"Based upon the claims filed within the past 36 hours, this storm could reach $1.5 to 2 billion in insured losses. This is preliminary and we are hopeful that the damage estimates fall short of what we are predicting," SIIS President Sandra Helin said in a statement.
State Farm, the largest property insurer in Texas with more than a quarter of the market, said that as of mid-day Friday it had about 8,000 auto insurance claims and just over 3,000 homeowners' claims from the Dallas storm.
USAA, the military-focused insurer that is the fourth-largest property underwriter in Texas, said it had received some 4,000 home and auto claims.
From shattered windshields and sunroofs to damaged roofs and battered signs, the aftermath of the vicious hailstorms will reverberate through Dallas for months to come.
"We've got more people in our lobby than we can handle," Shawn Pedersen, a service adviser for a Service King auto repair shop in Dallas said on Friday. "There are no rental cars anywhere to be found in the Dallas area."
The hail began in Dallas about 6 p.m. as many commuters were heading home during the evening rush. Drivers attempted to maneuver under overpasses and beneath trees and building canopies to avoid the onslaught.
Larry Davidson, who was watching the storm from his second-story hair salon in the hard-hit Lakewood area a few miles east of downtown Dallas, said he and two clients saw their cars severely battered and dented by the densest blanket of hail they had ever seen.
"At one point, I tried to open the back door to the salon to see the back parking lot but the hail was so deep, I couldn't push the door open," he said.
Nakita Johnson stopped her car in the Lakewood area and suffered a cut on her head as she ran to a nearby home to take cover, according to the office of her husband, state Representative Eric Johnson.
Eric Johnson wrote on his Facebook page that the hospital they went to was good. "Hail, however," he wrote, "is evil."
Was this article valuable?
Here are more articles you may enjoy.