Gene Eisenmann, a leader in the excess and surplus lines industry in Texas and nationally, has passed away after a long battle with a host of illnesses, his family by his side.
A giant of E&S lines, Eisenmann built companies, advanced the interests of the industry and, perhaps most importantly, helped hundreds of men and women advance and improve their careers.
Eisenmann was founder and chairman of Colemont Insurance Brokers, formerly Heath Insurance Brokers, which he built from a one office operation in Dallas, Texas, into one of the largest and most respected E&S brokerage firms in the nation.
He orchestrated the management buyout from Heath that created Colemont, as well as the later sale of the firm to AmWins.
Prior to Heath, Eisenmann was president and CEO of Stewart Smith Southwest from 1974 until 1992. He is a past-president of NAPSLO, former director and president of the Texas Surplus Lines Association and was chairman of the Surplus Lines Stamping office of Texas.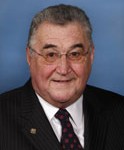 Most recently he served as consultant and vice-chairman at Phoenix, Ariz.-based wholesale insurance broker, tKg.
According to tKg CEO James F. Keating: "Gene was a great man. To know Gene was to love him. A first class businessman who rose from a humble background to the pinnacle of our industry, he never forgot where he came from. Gene was that rare individual who could get results while never losing sight of the human side of our business. A loving husband to Denise, father of four wonderful and successful children and grandfather to twelve beautiful grandchildren he will be sorely missed by all who knew him."
At Eisenmann's request, services will be limited to family. At the family's request, donations in Eisenmann's name can be made to the Prostate Cancer Foundation at: www.pcf.org
Was this article valuable?
Here are more articles you may enjoy.