The state is trying to make it easier for the Oklahoma Corporation Commission to gather data on wastewater disposal wells with a new digital system.
Gov. Mary Fallin's office announced a research grant from the Oklahoma Energy Resources Board will fund the new system that will establish a standard format for disposal well operators to report their data to the commission. The amount of the grant was not revealed.
The grant is also intended to assist the commission with data collection and analysis.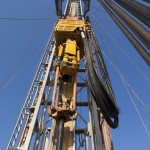 The announcement comes the same day the commission asked operators of nearly 250 injection wells in northwest Oklahoma to reduce by 40 percent the amount of wastewater they inject underground in an effort to reduce a recent increase in earthquakes.
Copyright 2021 Associated Press. All rights reserved. This material may not be published, broadcast, rewritten or redistributed.
Was this article valuable?
Here are more articles you may enjoy.