In 2016, Texas suffered through another costly year of weather related losses for homeowners and autos. Looking only at loss information through the end of September, it has been a year of record losses for hailstorms.
The months of March and April in 2016 recorded some of the most damaging hailstorms the state has ever seen. Hailstorms in those two months caused more than $4 billion in damage to thousands of homes primarily in the Dallas/Fort Worth area and San Antonio.
"Only Hurricane Ike in 2008, the costliest storm in Texas history, inflicted more damage to homes than this year's hailstorms," said Mark Hanna, a spokesperson for the Insurance Council of Texas.
The costliest hailstorms struck Fort Worth, Arlington, Plano, Wylie and San Antonio. The April 12 hailstorm in San Antonio and Bexar County resulted in $1.4 billion in damage, making it the costliest hailstorm in Texas history, exceeding the May 5, 1995, $1.1 billion hailstorm in Fort Worth.
The storms also produced record losses for cars and trucks. Hail and flood damage to automobiles this year is expected to reach a record $2 billion in insured losses. A hailstorm that struck El Paso on Nov. 4, damaged an estimated 40,000 automobiles. Flooding earlier this year in Houston and Harris County also damaged thousands of vehicles.
Testifying before the House Insurance Committee on Dec. 1, Texas Department of Insurance Senior Actuary Brian Ryder said the insurance department is estimating, on a very preliminary basis, an underwriting loss in the residential property market of 30 percent for the full year 2016.
Regarding hail losses in 2016, Ryder said that by comparison for all of 2015 insurers paid out $1.9 billion in hail claim losses, which previously was the most paid for hail losses in a full year in Texas.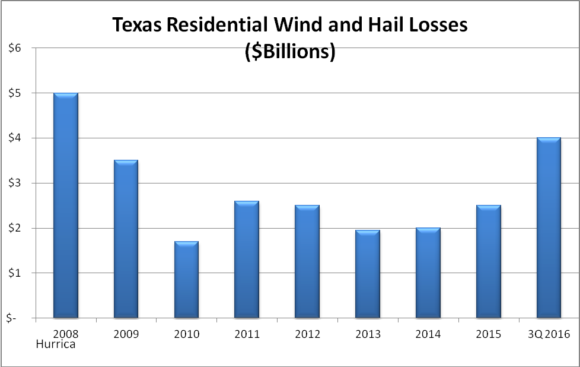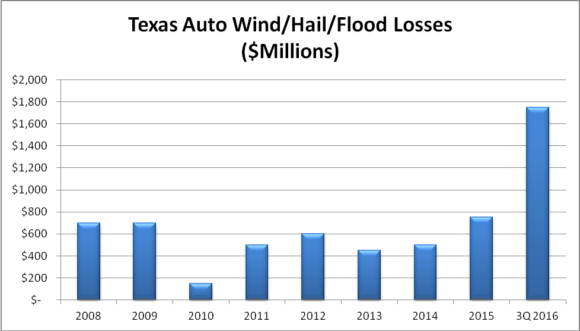 Source: Insurance Council of Texas
Topics Catastrophe Texas Profit Loss
Was this article valuable?
Here are more articles you may enjoy.