When tens of thousands of fans stream into NRG Stadium in Houston for the Super Bowl this Sunday, they will understandably be thinking more about the big game than the behind-the-scenes preparations that have gone into ensuring their safety — and that's just the way law enforcement officials want it to be.
The Super Bowl will put Houston squarely in the international spotlight, and the FBI and its local, state, and federal law enforcement partners have been working hard to make sure the game and the events leading up to it in Houston are without incident.
"We've been working for several years with our partners to make sure appropriate security is in place," said Perrye Turner, special agent in charge of the FBI's Houston Division. "We're going to do everything in our power to make sure it's a safe event."
"On the day of the big game, we will be here, but our presence may not necessarily be seen," said Mark Webster, an FBI assistant special agent in charge in Houston who is coordinating the Bureau's Super Bowl security efforts. "We will have multiple elements in place onsite as well as offsite."
Working with the Houston Police Department — which has the lead role in security planning — and other local, state, and federal agencies, the FBI's primary role is to provide intelligence about possible terror threats. But because the Super Bowl is a major national event, just about every aspect of the Bureau's expertise will be called into play.
"We are using all the elements within our office," Webster said. From SWAT teams and cyber squads to intelligence analysts and surveillance specialists, FBI personnel will be on the ground at the stadium and will also be staffing command posts set up for the 10-day operational period that includes a variety of festivities leading up to the game on February 5.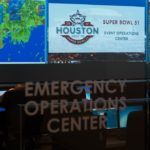 At the Houston Emergency Center recently, where the main command post is located, specialists gathered from more than a dozen partner agencies.
"Today is called a rehearsal of concept," said George Buenik, an executive assistant chief with the Houston Police Department responsible for Super Bowl security and police operations. "We invite everybody here to check the equipment, check the hookups, to see where they're going to be sitting, and to also meet some of the other folks that they're going to be working with. We have a great security plan in place," Buenik said.
Matt Slinkard, an assistant chief with the Houston Police Department also involved with Super Bowl security preparations, noted that this will be the third Super Bowl the city has hosted, along with many other national-level events. "Our city and our counterparts both locally and federally are well prepared and well equipped to deal with these types of events."
He added that even with all the law enforcement coordination, "the community has to be our eyes and ears. We cannot do it by ourselves. If you see something — if something doesn't seem right to you, it's probably not right to us either — say something about it."
The FBI's Turner agreed. "We all have to work together to make this a safe event," he said, expressing confidence that with the extensive planning and resources that have gone into Super Bowl security preparations, "people will be able to come to Houston, be safe, and have a great time cheering on their favorite football team."
Source: FBI
Topics Law Enforcement
Was this article valuable?
Here are more articles you may enjoy.