Heavy thunderstorms produced hail and possible tornadoes in northeast Texas on Sunday night, with the communities of DeKalb and Winnsboro hardest hit, according to the Insurance Council of Texas.
In DeKalb, a possible tornado struck the city's south side causing extensive damage to roughly 20 homes. Roofs were taken off and a number of trees and power lines were down, however no injuries were reported.
Insurance agents in DeKalb reported some of the homes received very heavy damage and its residents were having to seek shelter elsewhere. Strong winds ripped the steeple off of the Radiant Life Church, according to the ICT.
About 60 miles away in Winnsboro the same storm system also caused damage. Agents reported strong winds took off the roof of an apartment complex, knocked a tree into a house and reportedly pushed a car into a residential structure. Power also went out in Winnsboro. No injuries were reported.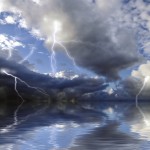 "It would appear that 2018 is off to an early start with its rough weather," Mark Hanna, a spokesperson for the ICT, said in a statement. "Texas homeowners should be prepared with residential property insurance policies paid up and in place leading into the state's upcoming thunderstorm season."
The ICT consists of some 500 property/casualty insurers writing business in Texas.
Was this article valuable?
Here are more articles you may enjoy.