Wholesale insurance services firm, Midlands Management Corp., headquartered in Oklahoma City, appointed Mark Sullivan as leader of its Transportation team. He is based in Dallas.
Sullivan joined Midlands in 2010 as an associate marketing representative and later was promoted to senior underwriter where he was active in numerous binding authorities within the Midlands umbrella of products. It was during this time that he began developing and honing expertise in transportation related products. As a result of his success in growing the transportation book of business, Midlands created a dedicated transportation department with Sullivan at its head.
Earlier in his career, Sullivan interned with Markel, a position that included a period of time in London where he was immersed and became well-versed in internationally traded insurance and reinsurance, syndicates and program creation and establishment.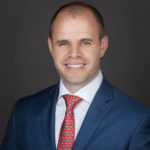 Midlands Management Corporation is a leader in the wholesale brokerage and insurance services industries, with specialty in work injury benefits, especially Excess Workers' Compensation, Texas Non-Subscriber and Occupational Accident.
Source: Midlands Management Corporation
Was this article valuable?
Here are more articles you may enjoy.