Catastrophe modeling firm, Karen Clark & Company (KCC), says insured losses from Tropical Storm/Hurricane Barry and its remnants will near $300 million. That figure does not include National Flood Insurance Program (NFIP) losses.
KCC based the estimate on its high resolution US Hurricane Reference Model. The estimate includes privately insured wind and storm surge damage to residential, commercial, and industrial properties and automobiles, but not NFIP losses.
According to KCC, the total insured loss amount will result from accumulated small losses over a large area. "Widespread isolated instances of damage caused by fallen trees occurred throughout southern Louisiana. Additional damage occurred close to the landfall point, including roof damage to residential buildings and more significant damage to small structures," KCC said in a media release.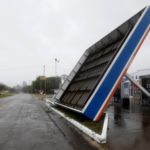 Although initial forecasts indicated rainfall amounts of up to 25 inches, actual total amounts ranged between three and six inches, with isolated areas experiencing "significantly greater amounts," according to KCC.
KCC said flooding may continue to occur through July 17 with heavy rain bands continuing north through Arkansas and Tennessee.
Previous to the storm's landfall, data analytics provider CoreLogic indicated that 339,480 homes in Louisiana were at moderate-to-extreme risk of tropical storm-driven flash flood damage from Barry.
Actuarial consulting firm Milliman has estimated that of the single family homes in Louisiana and Mississippi likely to have been affected by Barry, 20% have flood insurance through the NFIP.
In an email message, Milliman clarified that it "defined homes affected by Barry as those in counties or parishes with an expected 7-day cumulative precipitation greater than 5 inches." Not all those potentially affected homes were expected to suffer flood damage.
According to Associated Press reports, up to 17 inches of rain from Barry had fallen in parts of Louisiana, and parts Mississippi's Jasper and Jones counties had seen around eight inches of rain as of Monday.
The situation with Barry was not as dire as pre-landfall predictions had indicated, especially in the case of New Orleans. Levees along the Mississippi River at New Orleans were not overtopped but in nearby parishes such as Plaquemines and Terrebonne they were.
"We absolutely made it through the storm. Beyond lucky, we were spared. We understand that our brothers and sisters who are in surrounding parishes were less lucky in some instances. However, the support from the City of New Orleans has been consistent, and we will remain so as it relates to meeting the needs of our surrounding parishes," New Orleans Mayor LaToya Cantrell said in a statement posted on the city's website on Sunday afternoon. "As we've been asked to do, we will continue to respond and follow through. The tropical storm threat is over, but rain remains a possibility. Tropical bands with heavy rains could continue to effect the area."
Barry made landfall along Louisiana's central Gulf Coast on July 13 as a Category 1 hurricane and quickly weakened to a tropical storm. Prior to landfall, the National Hurricane Center said it expected total rainfall amounts of 10 to 20 inches across south central and southeast Louisiana and southwest Mississippi, as well as possible isolated maximum amounts of 25 inches resulting from what was then Tropical Storm Barry.
Topics Catastrophe Profit Loss Flood Louisiana Hurricane Mississippi
Was this article valuable?
Here are more articles you may enjoy.