The Surplus Lines Stamping Office of Texas (SLTX) says it recorded $513.68 million in Texas excess and surplus lines insurance premium in November 2019. This total continues the year's trend of each month in 2019 setting record highs for that month historically.
With this month's total, surplus lines premium recorded for the year has already surpassed the amount reported in all of 2018. Through the first 11 months of the year, $6.41 billion in premium has been recorded, compared to $6.08 billion in all of 2018.
In comparing quarterly totals, the third quarter of 2019 represents the highest rate of growth by quarter for the year. During the third quarter of 2019, SLTX recorded a 21.6 percent increase over the third quarter of 2018, which itself represented a 15.4 percent rise over 2017.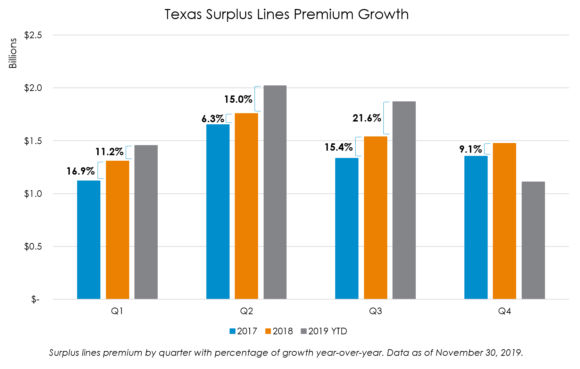 The second quarter of 2019 showed a 15.0 percent increase over the second quarter of 2018, and the first quarter of the year was 11.2 percent higher than the same period in 2018.
The fourth quarter of 2019 is not yet complete, but premium grew 9.1 percent in the last quarter of 2018 over 2017.
While surplus lines premium growth has been impressive, surplus lines filing totals have grown only marginally.
In the third quarter of 2019, items reported to SLTX increased by 6.9 percent to 287,159, up from a decrease of 1.2 percent in 2018 over 2017. The second quarter of 2019 represented a filing increase of 5.5 percent, and SLTX recorded a 3.6 percent increase in the first quarter of the year.
Source: SLTX
Was this article valuable?
Here are more articles you may enjoy.