It almost seemed like there was a major fire or explosion per month at one petrochemical facility or another in the South Central region last year. That's not really the case, but there were a number of high-profile incidents at chemical facilities in both Texas and Louisiana that garnered not only media attention but that of the public and state and county governments. The single most widely read story in the Insurance Journal's South Central region concerned one such incident, in which a series of explosions occurred at a petrochemical plant in Port Neches, Texas, the day before Thanksgiving.
Other stories of interest to readers in the South Central region last year covered the acquisition of one of Texas' largest program and specialty insurance brokerages; Oklahoma's opioid lawsuit against Johnson & Johnson; the potential off-and-on existence of Texas' plumbing regulations board; legal actions against actor Brad Pitt stemming from alleged construction defects of homes built in New Orleans following Hurricane Katrina in 2008, the "ghost" of Hurricane Harvey; Louisiana's insurance commissioner's race, Texas' driver responsibility program, an ammonium nitrate-carrying truck that exploded in Texas; and the poisonous gas deaths of a Texas oilfield worker and his wife.
Following are some of the most-read stories in IJ's South Central region last year:
With more than 12,000 views the top story in the South Central region last year concerned the Port Neches petrochemical plant owned by Houston-based Texas Petroleum Chemicals, or TPC Group, that was rocked by two massive explosions in 13 hours on Nov. 27, the day before Thanksgiving. Three workers were injured. Windows and doors of nearby homes were blown out and a mandatory evacuation was implemented in a 4-mile radius from the plant, which manufactures highly flammable 1,3 butadiene. The plant was reported to have a long history of state and federal environmental violations and had been considered a high priority violator by the U.S. Environmental Protection Agency.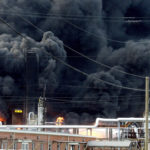 In mid-March, a massive fire at a petrochemical storage facility in the Houston suburb of Deer Park burned for days, covering the Houston-area with a thick blanket of smoke. A total of eight storage tanks at the facility owned by Mitsui & Co Ltd.'s Intercontinental Terminals Co. (ITC) were said to have burned. A report by the Harris County Fire Marshal and the U.S. Bureau of Alcohol, Tobacco and Firearms (ATF) attributed the cause of that fire to a broken manifold, which includes a pump and motor, on one of the storage tanks.
Exxon Mobil Corp. was hit with lawsuits, including one brought by Harris County, Texas, over pollution from a July 31 fire at the company's Olefins Plant in Baytown. Orange flames and thick, black smoke began pouring from a unit in the plant around 11 a.m. Central time. About 37 people suffered injuries, mostly minor burns. Local residents were ordered to seek shelter indoors, shut their doors and turn off their air conditioners.
An explosion also rocked a Dow chemical plant in Louisiana in November. That blast occurred at a Dow Louisiana Operations facility near Plaquemine; no injuries were reported. Dow Louisiana Operations is a 1,500-acre integrated manufacturing facility and is reported to be one of the largest petrochemical facilities in the state.
The announcement that Dallas-based U.S. Risk Insurance Group would be acquired by USI Insurance Services was the second most widely read story in the South Central region last year.
Under the terms of the acquisition, which was finalized in July, U.S. Risk will maintain its Dallas headquarters and continue to operate independently under the company's various existing brands, U.S. Risk, Oxford, MGB, James Hampden International, Antarah and UNIS.
U.S. Risk Chief Executive Officer Randall G. Goss and his current leadership team will remain and continue to lead these businesses.
USI Insurance Services is headquartered in Valhalla, New York.
With an executive order, Gov. Greg Abbott extended the life of Texas State Board of Plumbing Examiners and its licensing law until 2021 after the state's Legislature failed to come up with a solution for continuation of the board, which licenses plumbers and investigates claims of unlicensed work or plumbing law violations. The board was set to expire on Sept. 1, 2020. Licensed plumbers and others involved in building industries had said the lack of a licensing organization would result in unqualified plumbers entering the workforce. The Texas Tribune reported that while Texas has about 58,000 licensed plumbers, there is a shortage due to population growth and the rebuilding that has taken place following Hurricane Harvey in 2017.
Other top ranking stories in the South Central region last year include:
A judge in October 2019 denied actor Brad Pitt's request to be taken off a lawsuit that says his Make it Right Foundation built shoddy homes in the New Orleans area that was hit hardest by Hurricane Katrina. The suit filed by two homeowners allege that the foundation in the Lower Ninth Ward have infrastructural issues and residents have reported being sick. Pitt and foundation board directors maintain they weren't personally responsible for the construction. More than 100 green Make It Right houses were built in 2008. The foundation sued the principal architect last year saying his designs were defective.
The driver of a commercial truck hauling ammonium nitrate, a chemical commonly used as fertilizer, was killed in March after the truck's brakes caught fire and caused the vehicle to explode. The driver, 63-year-old Randall McDougal, was employed by Blann Trucking Co. and was hauling ammonium nitrate from El Dorado to Texarkana in south Arkansas.
Louisiana is experiencing what many, including Tim Temple, a Louisiana businessman and longtime insurance industry executive who ran for insurance commissioner last year, consider to be an insurance crisis, especially in the area of auto insurance — both personal and commercial. Temple failed in his attempt to oust current Insurance Commissioner Jim Donelon, who readily acknowledges the state's auto insurance markets are in serious trouble.
2019 saw Texas and Southeast Louisiana continuing to rebuild following the Hurricane Harvey, which devastated many parts of the central Gulf Coast with hurricane force winds, torrential rains and unprecedented flooding in 2017. While the 2018 and 2019 hurricane seasons were comparatively quiet (exceptions — Hurricane Barry and Tropical Storm Imelda), many communities have found full recovery from Harvey to be elusive.
A pharmaceutical-industry critic said during a hearing in Oklahoma's opioid lawsuit against Johnson & Johnson the company used promotional gimmicks for its opioid painkillers that are similar to how criminal drug dealers try to boost sales. Cleveland County District Judge Thad Balkman in August ultimately found Johnson & Johnson and its subsidiaries guilty of helping fuel the opioid crisis with an aggressive and misleading marketing campaign that overstated how effective the drugs were for treating chronic pain and understated the risk of addiction. The company was originally ordered to pay $572 million, but that amount was reduced to $465 million after the judge acknowledging he miscalculated the original amount. Both Johnson & Johnson and the state of Oklahoma are appealing the ruling. The state says the amount is not enough and the pharmaceutical giant claims it is too much.
Texas legislators succeeded in passing legislation in 2019 to kill the state's Driver Responsibility Program. The 16-year-old program, which ended on Sept. 1, 2020, left more than 1 million people unable to keep or renew their driver's licenses. Lawmakers from both chambers and parties had criticized the program for adding additional annual fees — ranging from $100 to $2,000 depending on the offense — on top of the price of traffic tickets.
Jacob and Natalee Dean died in October after inhaling hydrogen sulfide gas at an Aghorn Energy pump house in Odessa, Texas. Deputies say the company dispatched Jacob to check on the facility. He died after being overcome by the poisonous gas and his wife, Natalee, was killed by the fumes when she went to check on him.
Topics Lawsuits USA Catastrophe Texas Legislation Auto Louisiana Hurricane Pollution Oklahoma Chemicals Insurance Journal
Was this article valuable?
Here are more articles you may enjoy.