Surplus lines flood insurance premium filed with the Surplus Lines Stamping Office of Texas (SLTX) has increased annually over the past five years, according to SLTX.
Additionally, while NFIP premium dipped in 2017, it rose in 2018 and Texas premium has made up an increasing share of US totals since 2013, SLTX said.
Surplus lines flood insurance in Texas has grown significantly over the past few years. In 2016, SLTX recorded $19.13 million in flood premium, which grew to $33.13 million in 2017 and $36.07 million in 2018.
Through the end of 2019, $46.46 million in premium has been recorded. In comparing recent years, premium tends to jump up in the summer months, though it spiked in September 2017, right after Hurricane Harvey hit the Texas coast, and again in November 2017.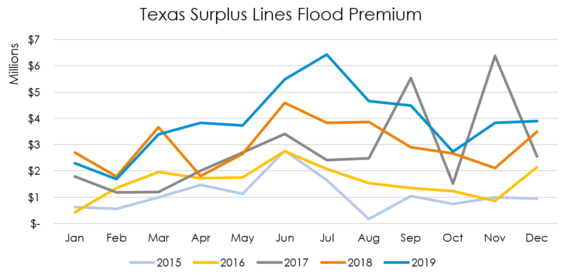 SLTX noted that House Bill 1306, which passed in the Legislature last year, creates a diligent effort exemption for flood policies placed in the surplus lines market.
The Texas Insurance Code holds that an eligible surplus lines insurer may only provide coverage if the full amount of insurance required cannot be obtained from an admitted insurer, and the coverage provided may only be in the amount that exceeds coverage obtained from an admitted insurer.
However, HB 1306 states that these requirements do not apply to flood coverage provided by an eligible surplus lines insurer that has a financial strength rating of A- or better from the A.M. Best Company.
Source: SLTX
Was this article valuable?
Here are more articles you may enjoy.