The Surplus Lines Stamping Office of Texas (SLTX) reports that excess and surplus lines insurance premium recorded for the first quarter of 2020 is up 14.5% compare with the same period last year. Additionally, the Q1 2020 filings represent a 27.4% growth over the first quarter of 2018.
SLTX said $1.67 billion E&S premium was recorded in Texas during the first three months of 2020.
Premium reported so far this year continues a trend of each month setting a new record for that month. Totals in January, February, and March have all hit new highs this year at $540.0 million, $502.9 million, and $622.7 million in premium, respectively.
While premium increased over this time period, total filings made during the first quarter decreased 0.42% compared to the first quarter of 2019. SLTX recorded 259,952 filings to date in 2020, compared to 261,056 in the first three months of 2019 and 251,977 in this quarter in 2018.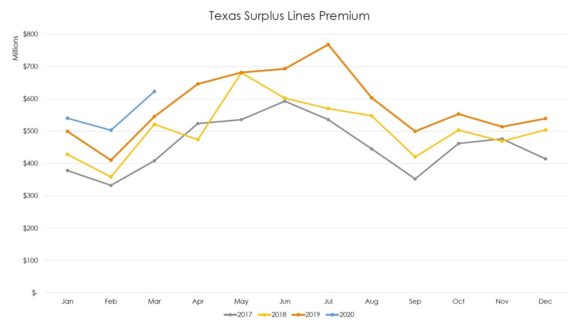 Based on recent years, E&S premium recorded in Texas generally rises during the summer months. However, the coronavirus (COVID-19) pandemic first reached the United States this quarter, and it is unclear how much the virus will impact the market moving forward.
Topics Texas Trends Excess Surplus
Was this article valuable?
Here are more articles you may enjoy.