The catastrophe risk modeling firm Karen Clark & Co. (KCC) has estimated that the insured loss to onshore properties from Hurricane Delta will be close to $1.25 billion, which includes $950 million wind and storm surge losses in the U.S. and $300 million wind losses in Mexico.
This estimate includes the privately insured wind and storm surge damage to residential, commercial, and industrial properties and automobiles. It does not include NFIP losses or losses to offshore assets. This estimate does not include any potential impacts on losses due to COVID-19.
Hurricane Delta, which made landfall near Creole, Louisiana, with 100 mph winds on Oct. 9 was the 10th named storm to make a U.S. landfall, the most since 1916, and the 25th named storm of the 2020 North Atlantic Hurricane season. Before hitting the U.S., the storm previously had made landfall near Puerto Morelos, Mexico, with winds of 110 mph.
Delta's landfall in southwestern Louisiana was just over 12 miles from where Hurricane Laura came ashore six weeks ago. Delta brought high winds to many of the same communities still recovering in addition to other cities, such as Abbeville, Crowley, and Intracoastal City, that were not as impacted by Laura.
Delta's high winds brought moderate damage to southwestern Louisiana. Window openings, roofs, and building facades were damaged in an area from Lake Charles to Abbeville and inland to Opelousas. Structural damage in this area was confined to lightweight structures, such as warehouses and gas station pavilions, old structures, and buildings impacted by fallen trees.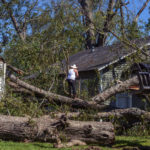 Lake Charles — the city most impacted by Laura — also experienced high winds from Delta. Many roofs waiting for repairs had tarps blown off, likely causing additional damage to these buildings. Other properties in the area not impacted by Laura have been damaged by Delta.
Light wind damage, which encompasses damage to roof coverings and downed trees, was widespread throughout Louisiana, including in Baton Rouge and Lafayette. Parts of southwestern Mississippi and eastern Texas also experienced similar modes of damage.
Source: KCC
Topics USA Profit Loss Louisiana Hurricane
Was this article valuable?
Here are more articles you may enjoy.