At least six people were killed Feb. 11 in a massive crash involving at least 133 vehicles on an icy Texas interstate, police said, as a winter storm dropped freezing rain, sleet and snow on parts of the U.S.
The number of injured was still unknown as a result of the accident on Interstate 35 near downtown Fort Worth, police said. Police set up a reunification center for family members at a community center.
According to the Fort Worth Star-Telegram, the cars, pickup trucks and 18-wheelers collided on an icy half-mile section in the southbound express lanes of I-35W near downtown, just after 6 a.m.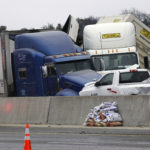 The Dallas Morning News reported that 65 people had been treated for crash-related injuries at area hospitals by the end of the day on Feb. 11. That number expected to rise. Some of those treated were critically injured.
Farther south, in Austin, more than two dozen vehicles were involved in a pileup on an icy road, and one person was injured, emergency officials said.
Elsewhere, ice storm warnings were in effect from Arkansas to Kentucky, while another winter storm was predicted to bring snow to Mid-Atlantic states, the National Weather Service said.
Copyright 2021 Associated Press. All rights reserved. This material may not be published, broadcast, rewritten or redistributed.
Topics Texas
Was this article valuable?
Here are more articles you may enjoy.