Biggs Joins Oklahoma Workers' Comp Commission
The Oklahoma Workers' Compensation Commission (WCC) added Scott Biggs as its newest commissioner.
The WCC and its three commissioners are tasked with carrying out the adjudicative, administrative, and regulatory functions of the Administrative Workers' Compensation Act. Each commissioner is appointed by the governor to serve a six-year term.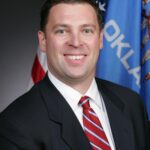 Biggs joined the commission after serving as the state executive director for the Farm Service Agency within the USDA. Prior to his service with the USDA, Biggs was an elected member of the Oklahoma House of Representatives serving on a variety of committees and in several leadership roles. Much of his work focused on both agriculture and victims' issues.
Biggs currently serves as an officer in the Oklahoma Air National Guard and is assigned to the 138th Fighter Wing legal office in Tulsa, Oklahoma. He was recently recognized with the Patriot Award for his support and cooperation of fellow members in the Guard, Reserves, and veterans of military service in their employment opportunities.
Alliant Adds Soto, Hargrave in Texas
Alliant Insurance Services continues to expand its reach in Texas, hiring Ivan Soto as assistant vice president. Based in Houston, Soto will serve a diverse client base and create tailored insurance solutions that address a breadth of industry risks and exposures.
The company also added Taylor Hargrave as vice president. Based in Dallas, Hargrave will design and implement innovative property and casualty insurance programs for a diverse regional client base.
Soto joins Alliant with proven expertise in creating risk management and capital efficient insurance programs. Prior to joining Alliant, Soto was a property/casualty risk consultant with a national insurance brokerage and consulting firm.
Prior to joining Alliant, Hargrave was an advisor with an insurance agency offering property and casualty, employee benefits, personal insurance, and various other solutions.
ICT Hires Johnson
The Insurance Council of Texas (ICT) added Rich Johnson as its new director of communications and public affairs.
Johnson has over 20 years of experience in communications, public relations, and public affairs, including previously serving as the senior communications manager and then senior public affairs manager at USAA.
Topics Texas Workers' Compensation Oklahoma
Was this article valuable?
Here are more articles you may enjoy.