Pamela will not only pose significant dangers across Mexico, as it pushes inland after making landfall as a Category 1 hurricane Wednesday morning, but its impacts will also be felt across parts of the United States while it treks farther inland. Excessive rainfall and flash flooding are predicted in portions of central Texas after Pamela arrives as a tropical rainstorm by late week. The system's interaction with a non-tropical system will enhance rainfall further.
Pamela made landfall near Estacion Dimas, Mexico, early Wednesday morning with 75-mph maximum sustained winds. At 9 a.m., local time, Pamela had already lost some wind intensity and was a tropical storm with 65-mph winds, according to the National Hurricane Center. By the time the system reaches the U.S., it may no longer be an official tropical system, but as a tropical rainstorm, Pamela will still pose risks to lives and property in Texas.
"A significant flash flooding risk will occur across parts of Texas in the coming days as tropical moisture from Pamela is drawn northward and interacts with an intensifying storm system over the central United States," AccuWeather Chief Meteorologist Jonathan Porter said.
Drenching showers and thunderstorms due to the approach of a cold front can saturate the soil and lead to runoff in some cases into Wednesday afternoon. Isolated incidents of flash flooding can precede the arrival of Pamela's torrential rain.
As Pamela pushes over land, the system will continue to lose wind intensity. By the time Pamela moves northeastward across central Texas, it will likely be a tropical rainstorm. AccuWeather forecasters warn that it will still be a potentially dangerous system and unleash life-threatening flooding and carry the potential for serious property damage and travel disruptions.
The combination of the strengthening non-tropical storm system, its associated stalled front, and moisture from Tropical Rainstorm Pamela are poised to unleash torrential rainfall from near the Big Bend area of the Rio Grande River to portions of north-central Texas late Wednesday into Thursday night.
Within this zone, a general 4-8 inches of rain is anticipated with an AccuWeather Local StormMax of 10 inches in central Texas.
Rain will pour down so quickly that flash, urban and small stream flooding is expected. Much of the rainfall may fall in 8 hours or less with the potential for rainfall rates of 2 inches per hour or greater in some cases.
That is likely to unfold despite the fact that the region could use a good soaking rainfall. Many areas have been abnormally dry for a long stretch, and some areas are in the grips of moderate drought, according to the United States Drought Monitor.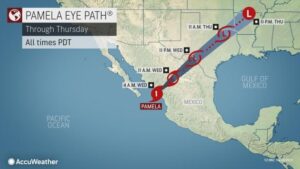 The most substantial flooding could threaten the Hill Country northwest of San Antonio and west of Austin, Porter said. "These areas are places where serious flash flooding has occurred in the past, especially in the higher ground," Porter warned.
Cities at risk for flash flooding mid- to late-week include San Antonio, Austin, Dallas, Fort Worth, Del Rio, Kerrville, Waco and Tyler, Texas.
Beyond the Dallas/Fort Worth area, flash flooding may also occur farther to the northeast across southeastern Oklahoma and northwestern Arkansas prior to the end of this week.
"As rainfall rates intensify, water may quickly rise, especially near streams, other waterways and low-lying areas," Porter said.
Forecasters urge motorists to avoid driving through flooded areas, as water may still be on the rise and it could be deeper than it appears. In some cases, road surfaces can wash away beneath floodwaters.
Low water crossings, underpasses and areas that drain poorly are likely to be the first places to flood. Some unprotected areas along streams and rivers will also take on rising water in this situation.
"As substantial as the rain and flooding risk is, only fast-forward motion of Pamela may prevent even higher amounts of rainfall and a widespread flooding disaster," AccuWeather Senior Meteorologist Rob Miller said.
Pamela is rated as a 1 on the AccuWeather RealImpact Scale for Hurricanes for Texas, even though Pamela is rated a 2 on the scale in Mexico. There is an extreme risk to lives and property in Mexico due to Pamela, related to wind, coastal flooding, flooding rainfall, and mudslides.
In the U.S., there is a high risk to lives and property due primarily to flooding rainfall.
At the end of this week and this weekend, dry air is forecast to push southeastward across areas in the path of Pamela's rain. The dry weather will quickly dry out the ground and allow streams and rivers to recede.
Alex Sosnowski is senior meteorologist with AccuWeather.
Source: AccuWeather
Was this article valuable?
Here are more articles you may enjoy.