In the aftermath of Hurricane Katrina, Louisiana lawmakers created a $29 million incentive fund to lure property insurance companies to write business in the state. The Insure Louisiana Incentive Program provided grants to five insurers, who were required to match the grants with an equal amount of their own capital. The program stipulated that the participating insurers had to write double that combined amount in new premiums in the state. Insurers had to commit to maintaining coverage for five years in order to receive a full grant.
Fifteen years later, the Louisiana property insurance market is again in a state of crisis. A series of severe hurricanes in 2020 and 2021 led to catastrophic losses, forcing eight insurers to go insolvent and several more to stop writing policies in Louisiana. With fewer private insurers participating in the market, policyholders have increasingly been forced to turn to the insurer of last resort, Citizens. Before Hurricane Laura in 2020, Citizens had approximately 35,000 policies. Following Hurricanes Laura, Delta, Zeta and Ida, Citizens' policy count has grown to about 125,000. As a result of increased reinsurance costs, Citizens last year approved a 63% increase in residential property premiums, which kicked in on Jan. 1 policy renewals.
To address the shortage of participating property insurers and the subsequent growing burden on Citizens, legislators are meeting in Baton Rouge for a week-long special session where they will vote to authorize funding for an incentive program similar to the one carried out after Katrina. The incentive program is modeled after the original, with lawmakers this time allocating up to $45 million in grants to participating insurers. In an interview with Insurance Journal, Louisiana Insurance Commissioner Jim Donelon said he has already heard from seven companies who have expressed willingness to participate in the program.
Insurers will receive between $2 million and $10 million from the state and match the grants with an equal amount of independent capital. If an insurer allocates $2 million in capital and receives $2 million in a matching capital fund grant, the insurer must write net premium of at least $8 million in the state. Additionally, at least 50% of net premium must be written in parishes included in the federal Gulf Opportunity Zone Act of 2005. An insurer will earn the grant at a rate of 20% per year for each the company maintains premiums, so that the insurer may earn the entire grant in five years.
Donelon said he expects to have enough votes this special session to pass the bill which authorizes the program. On Tuesday, the House Appropriations Committee approved the bill without objection, setting up a potential House floor vote Wednesday.
The full interview with Donelon is presented below.
What is the purpose of the special session and why is it important that lawmakers act now?
We are in the midst of a crisis. Our market of last resort, Citizens, which after Katrina had 173,000 policies in it, was the third-largest property insurer in our state behind only State Farm and Allstate. That had shrunk when Laura hit Lake Charles two-and-a-half years ago to 35,000 policies and 1/2 of 1% of our market. It's back up to 125,000. And with the news coming out of Florida about UPCs failure, we can anticipate another 15 or 20,000 policies having to get coverage through the state's sponsored market of last resort.
That's not in anyone's interest. It's not in the market overall market's interest. It's not in the people who have to get their coverage there as the market of last resort priced by law to be above the private sector plus 10%. And it's not in the (interest of the) rest of the property insurance purchasing population of our state who are at risk as they continue to pay the annual amortization assessment for the billion dollar bond issue Citizens had to issue 15 years ago to finish paying their Katrina claims.
So we have created, recreated, I might call it, the Louisiana Insurance Incentive Program, first done in the aftermath of Katrina and Rita, and very successful in doing two things. Number one, it got 40,000 policyholders out of Citizens and into the private sector within a year of the creation of that program, the launching of that program. That was very good news for those 40,000 policy holders who no longer faced the most expensive property insurance coverage in their particular parish. But it was also good news for the rest of the state because they were no longer at risk for losses from those policies necessitating an assessment by Citizens.
The other thing that it was successful in doing, I call it, it primed the pump to attract two dozen other small regional companies to our market to replace the exiting major national carriers who left our coastal exposure as they did all other coastal exposure on the Atlantic, all around the Gulf of Mexico, to Mexico. Those 30 companies provided coverage at affordable rates due to the competition they rendered to the marketplace for those like myself, who was getting coverage on my own home in suburban New Orleans. And when I moved from a major national carrier to Southern Fidelity, one of the five companies that got an incentive grant to come write business in coastal Louisiana, I went from $1,000 a month on my home insured for just under a half million dollars of replacement cost coverage to $400 a month.
Over the 10 years that I was insured by that company, I saved $70,000+ in premium cost. Now, I could have afforded the thousand dollars a month if I had not been able to make that move from a major carrier to that small regional carrier, but tens of thousands of my fellow Louisiana residents cannot afford that. That's the residents primarily in our working coast. The coast along the bottom of Louisiana, the southern extremity of the state, where oil and gas operations are the dominant employer, where fisheries are common or widespread, where port activity is huge, where refineries operate, where LNG export facilities are being built in the southwest corner and even the mouth of the Mississippi to export liquified natural gas all around the world and provide thousands of jobs to residents of our state in our working coast. That's why it's so important to our people and to our state's economy that we get on top of this crisis and make coverage once again affordable and available for the residents and the businesses of our state.
Q: Describe how this process works in terms of providing grants and then what companies must do in order to achieve those grants?
Just as was the case 15 years ago, a company can apply for a grant between $2 and 10 million. The five companies that got $29 million last time took, say, for example, $5 million each. They were required to match that $5 million with $5 million of their own isolated capital to match the $5 million grant. They were then required to write two times that combined amount or $20 million in new premium in the state of Louisiana, 50% of which had to be written in the 37 Go Zone parishes of our state, the bottom half, the southern half of our state, and 25% had to be written out of Citizens as part of a commitment by those companies to earn that $5 million grant. They had to then agree to stay on that coverage for a minimum of five years. And almost all of them did.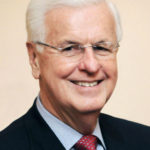 Two of them saw us claw back $4.5 million dollars of the $29 million that we handed out for failure to comply with all of those requirements throughout the five-year period of time. They can earn their $5 million back 20% per year by complying for one year and then two years and three years, et cetera. So, this program with the statute and the rank to implement it is virtually an overlay of what was required in that program 15 years ago. And if it is as successful by removing 40,000 policies from Citizens before the end of this year, I will be thrilled. In addition to that, the program being funded in this special session before the upcoming regular session that starts in April will allow companies wanting to participate, and we have seven of them who have publicly expressed to us their willingness and interest in participating.
We're gonna make those companies known to the committee (Tuesday) when this bill will be heard in committee. Those companies will be able to go to the International reinsurance marketplace in Zurich, in Bermuda, in London, and elsewhere where two-thirds of the global reinsurance is located and access while all the other companies are applying for their need for the upcoming hurricane season to reinsure their books of business.
It's a very hard market. I visited recently in Bermuda in London with reinsurers, Lloyd's as well as the IUA as well as Aon in Bermuda. The word I got was that they are all familiar with our market, that they're comfortable with it, that they know we're not becoming the next Florida as, as I brought a lawyer with me to speak with specificity on the steps we've taken over the past several years to prevent us from becoming the next Florida.
They were comfortable with that, but cautioned us that reinsurance capacity is the issue, not just because of our two bad hurricane seasons, horrific hurricane seasons, Laura and Ida, but because of wildfires in California, record wildfires in Australia, record privately insured flooding in Germany, and not to mention our hurricane experience over the last two years. Maybe the most troubling part of the market this year is the increase in interest rates that is driving investment dollars back into the market and the bond market in competition with capacity investors willing to invest in the reinsurance market as they have been in recent years. That competition in that reinsurance, soft reinsurance market had given us seven years in a row of 1% per year average increases in homeowners cost in the state of Louisiana statewide. We're anxious about that, concerned about the availability of reinsurance. So the sooner we can get this program up and running and let those companies that are interested in it get to those markets and reinsure that coverage, the better our recovery will be and the sooner it will happen.
Q: Citizens recently had to require a 63% increase in homeowners rates. What is the importance of holding the special sessions right now when it comes to the timing of, one, preserving lower rates for Citizens policy holders, and two, getting a head start on the reinsurance negotiations ahead of June 1st?
Absolutely. I don't know which one to say is more important, whether it's giving relief to those policyholders who beginning this month, January 1st, started experiencing that 63% rate increase and each month, 10,000 on average more will be hit with that rate increase until we can get them an alternative outside of Citizens, so that they can cancel their Citizens policy, get their unearned premium back and go forward with a private insurer. And getting to the reinsurance market is vital, not just for Citizens, but also for those companies that we're hoping to attract to fill that void of competition in our market, and also to depopulate as much as possible, our residual market. They have to access reinsurance coverage, and if they don't get the money until April, they'll be at the end of the line of companies in London, in Bermuda, in Zurich, asking for coverage against anticipated thousands of policies being accessed at one time by these companies, policies they were not budgeted for in their original reinsurance.
Q: You mentioned that Louisiana isn't that on track to become the next Florida. What gives you that confidence that Louisiana is on a better path forward long-term?
Well, number one, several years back, I did something that I was asked to do by companies doing business in our state, and that is, I approved policy forms that contained an anti-assignment of benefits provision that was at the core of the cottage industry of public adjusters, roofing contractors and lawyers in Florida that converted what one insurance executive described to me as his company was no longer ensuring roofs, they were maintaining roofs in the state of Florida. That proved ruinous to many companies in that state, five of which were doing significant business in Louisiana at the time of their failure. Beyond that we have resisted the temptation to lower, as Florida did under former Gov. Christ, the policy cost from the highest, down to a level that made Florida's Citizens competitive with the private sector, to where it is now the largest property insurer in that state.
We have not done that, and it has served us well by preserving Citizens as the market of last resort and not the market of choice for policyholders. In addition to that, we have improved some of our customer service in the aftermath of catastrophes, like the anti-churning of adjusters bill that we copied actually from the state of California who had a similar experience with wildfires in recent years. As I mentioned, the Fortify Homes program that copied from the state of Alabama that we believe will serve us as well as it has in Alabama policyholders is now growing rapidly in the state of North Carolina as well.
Q: Lawmakers have $45 million that has been allocated to fund this program. What are the next steps or avenues for getting that authorization in terms of proposing a bill and then voting on it?
Well, we kicked off the session(Monday) at noon, and the bill has been introduced by Chairman Zeringue of Homa, Louisiana in the coastal oil and gas capital or center of our coastal area. The bill pretty much replicates what was done 15 years ago after Katrina and Rita with one difference. And that is there is no percentage requirement to write policies out of Citizens. There is a 50% requirement to write policies in the southern half of the state, the Go Zone parishes as they're called. But other than that, the bill is very much a copy of what was done back then. Additionally, the reg that was passed 15 years ago, laying out the rules and the requirements of the program has also been promulgated by us and ready for final adoption next month, February 20th, when we hope to have the $45 million appropriation bill passed through the process and signed into law by the governor so that we can then start handing out grants to the seven companies, and I do believe more than that, who are going to participate in the program. I think, and my staff projects it based on the indications we've gotten from those seven companies and others, that the full $45 million will be asked for and accessed by those companies to start writing to comply with the requirements for keeping that grant money.
Q: What do you say to those who claim that this program is more of a stop-gap measure as opposed to a more effective long-term solution given the reinsurance issues in the state?
They're correct. It is a stop gap. It's an attempt to stop the crisis that we are experiencing that's threatening thousands of families' ability to stay in their homes that they have built or acquired in primarily the coastal areas of our state. The long-term answer is our other bill, the Fortify Homes bill that has been proven so successful in Alabama and growing in its success and take up in North Carolina with over 5,000 policyholders building or retrofitting to fortify standards and accessing a significant decrease or discount in the cost of their property insurance. So I tell them that are critical that this is a band-aid as some have referred to it, or a stop gap measure, that they are correct. It's not a silver bullet. There is no silver bullet out there. I've been doing this long enough and know that for sure, but a lot of band aids does a lot of good, and we did this once before, and we'll do it again, and I do believe we'll be as successful in our recovery of our property market this time as we were the last time this happened back in '05.
Topics Louisiana
Was this article valuable?
Here are more articles you may enjoy.