A little over a year ago, Peter Gardner, a Louisiana developer, completed rehabbing an apartment building with 144 units and got a surprise so ugly it made him decide to move his business out of town.
When the project began, his broker estimated the annual cost of insuring it would be $75,000. But by the time Gardner finished it, the insurance cost had risen to $175,000. He paid it, but when he went to renew the policy this past July, he got another shock. The broker now said it was $275,000. An alternative broker could only find policies over $300,000 per year.
Gardner bought his first house for renovation in New Orleans in 1999 when he was still in college. Over the years, he's tackled roughly 100 projects. He currently owns about 400 apartments that he rents. He survived the downturn after Hurricane Katrina in 2005, but now the market impacts of climate change have become so inexorable that he sees no choice but to start again in another city to the north.
"I'm a business climate refugee, because if I can't make a profit here, I don't feel comfortable buying new projects, investing here any further."
Reeling from four hurricanes in 2020 and 2021 that caused $23 billion in damage, Louisiana is undergoing an insurance calamity that is harming the state's economy and even reducing its population.
"There's no question we're experiencing a crisis in the insurance availability in our state," said James Donelon, commissioner for the state's Department of Insurance, who notes the crisis extends not only to property insurance for homeowners and businesses, but also to car and flood insurance, which are sold separately. "It's certainly causing some people to turn in the keys and give up their homes and to shut the doors on their businesses."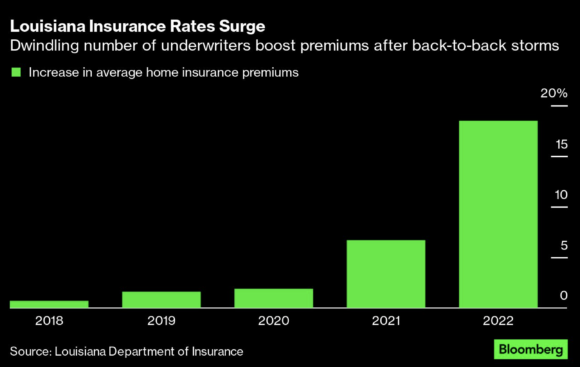 Louisiana is not alone in suffering from insurance woes. Rates are going up across the nation, particularly in states like Florida and California, which have been hit hard by climate-exacerbated natural disasters. Florida has a seen a tripling of rates and some of the super rich are complaining of annual premiums topping $600,000. But Louisiana has one of the lowest average incomes in the nation and so the rising costs there are quicker to cut to the bone.
The state is among the top three in the nation which lost the greatest percent of their populations between 2021 and 2022, according to the latest census. Many may have left because of hurricane damage. More than 8% of Louisianans told the U.S. census that they were displaced by a natural disaster last year, compared to a nationwide average of 1.6%.
The root of the problem is climate change. It's made hurricanes and rain storms that plague the city both worse and more frequent. "Climate change is driving not only direct losses but also repricing of insurance, mortgage and even utility rates," says Jesse Keenan, a professor of sustainable real estate at Tulane University.
There have long been endemic issues such as crime, pollution and economic stagnation in the state, said Keenan, but now unaffordable insurance is the breaking point.
Louisiana is the third most expensive state for property insurance, according to Insurify, an insurance comparison-shopping website. They estimated the average cost at $5,353 annually, or three times as much as the national average.
Twelve insurers that write homeowners coverage in Louisiana were declared insolvent between July 2021 and February 2022, according to the Insurance Information Institute.
Those closures sent insurance prices spiraling out of control, in both absolute terms and also in prices relative to local median incomes that are among the lowest in the nation. The average premium rose 6.7% in 2021 and then 18.5% in 2022, according to the Louisiana Department of Insurance.
But even those averages hide the real pain. Coastal Louisiana, which includes roughly everyone in the third of the state south of Interstate 10, has seen property insurance increases far higher and faster, according to the commission — and that's when they can get insurance at all.
First responders rescue residents from floodwater after Hurricane Ida in LaPlace, Louisiana. Photographer: Luke Sharrett/Bloomberg
Louisiana Citizens Property Insurance Corp., the state-backed insurer of last resort, went from 45,000 policies in 2020 to 130,000 currently. That's despite the fact that, by law, it charges 10% above market rate and raised rates 65% at the beginning of this year.
No one is immune. In June, the New Orleans School board announced that insurance had been raised by 55% to $12.3 million. That came on top of a 50% increase a year earlier. Officials said they were looking for ways to prevent cuts to student programs, including by selling buildings, since the state was not offering additional funding.
On the app NextDoor, which connects people in neighborhoods, rising home insurance rates are a constant complaint. "It's killing me to be paying nearly 10k for a basic dwelling policy," Linda Chaplain, who lives in the Lakeview neighborhood of New Orleans, wrote in August.
It's not just property insurance that is spiking. Louisiana has the least affordable car insurance rates in the nation, according to a 2022 study by the Insurance Research Council. The average policy is roughly three times the national average.
And now flood insurance is creeping up as well, which is hitting people in the poorest neighborhoods particularly hard, according to a recent study by New Orleans' city officials.
Flood insurance is sold separately from property insurance and it is mandatory for federally backed mortgages in severe flood zones. (More than a third of New Orleans is in such a zone). For decades, the feds had subsidized the program, but lost roughly $1.4 billion annually. So in 2021, it rolled out a new premium pricing policy, under which homes at most risk could see increases of up to 18% a year up to a maximum of $12,000.
Coastal Louisiana, roughly everyone in the third of the state south of Interstate 10, has seen property insurance increases far higher and faster according to the commission — and that's when they can get insurance at all. Photographer: Mark Felix/Bloomberg
Austin Feldbaum, director of hazard mitigation for New Orleans, said within a year of the reform going into effect he began being deluged with calls from people desperate for help. They couldn't pay their flood insurance and wanted help getting grants to raise their houses on platforms, hoping it would reduce their premiums.
The calls prompted him to do his own analysis of the impact federal insurance reforms had on affordability in the city. In 2020, before the reforms, 5% of the city had flood insurance costs that were more than 5% of the average household income. But he says that if all of the rate increases are allowed to go into effect, some 25% of the city will owe more than 5% of their incomes in flood insurance – and in many cases a lot more.
"If you look at where the costs end up, some monstrous proportion of the city would be unable to reasonably afford flood insurance," said Feldbaum. "And not by a small margin, but where it's just completely beyond the average households' ability to pay the average premium."
The insurance pain is already unbearable now for the city's poorest, according to Marguerite Oestreicher, executive director of the New Orleans Area Habitat for Humanity. Habitat makes zero-interest mortgages available to low-income people who are unable to qualify for traditional loans. They currently help thousands of families in the New Orleans area, providing services from new homes to used furniture.
"We have been inundated with calls from families desperate for a solution," she said. She estimates they are getting about 10 calls per week for the families in their program.
Patrice Mimitte is one of those homeowners urgently seeking a solution. When she got her home through the NOLA Habitat program eight years ago, her insurance payments were about $1,500 annually. Her flood coverage was about $400. Both had inched up over the years, but then last year both went through the roof. She paid $4,000-plus for homeowners and $700 for flood. The additional cost more than doubled her mortgage payment from $580 a month when she started to over $1,200.
On the phone recently, Mimitte said she had just gotten a new letter from the insurance company with next year's premiums and she was afraid to open it. It turned out her premiums will go up to $5,183 annually in October.
"As a single parent, the only person working in my house, I don't have any extra hands. I'm already working two jobs to try to make ends meet. At this point, I just don't know what to do."
Photo: Flooding and Damage to homes a day after Hurricane Ida.
Copyright 2023 Bloomberg.
Topics Louisiana Climate Change
Was this article valuable?
Here are more articles you may enjoy.