Florida officials have approved an emergency rule that will allow auto insurers providing no-fault coverage to use a form informing accident victims of their benefits under the state's revised personal injury protection law.
The Florida Cabinet approved the emergency rule that will detail for consumers a major provision of a PIP reform bill enacted earlier this year by state lawmakers. Under the provision, accident victims receive $10,000 in benefits for injuries requiring emergency care, but only $2,500 for non-emergency injuries.
Insurance Commissioner Kevin McCarty said his office has been working on a permanent rule that would create a form that would specify to consumers their rights and benefits, most notably the limitation on their non-emergency benefits. However, he said, concerns had been raised by the industry about the inability to have that rule and form in place before the new law takes effect on January 1.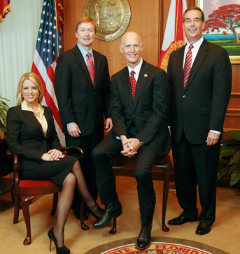 McCarty said based on their concerns, his office decided to proceed with a dual track to implement an emergency rule that would be followed by a permanent one.
"In an abundance of caution for the industry and to protect consumers and make sure they are advised of their new benefits on policies issued after January 1, we are presenting this emergency rule," said McCarty.
Attorney General Pam Bondi, however, questioned whether the need for the emergency rule reached the threshold required for the Cabinet to approve such a rule.
"For us to approve an emergency rule you have to show there is an imminent danger to the health and safety and welfare of Florida," said Bondi.
McCarty said a case could be made the rule met that threshold since without it accident victims under the old form would be led to believe they have benefits that no longer exist under the new law.
"We run the risk that a claimant will be notified of benefits that they don't have and then go out and get medical services that don't get paid," said McCarty. "This makes it legally binding that consumers are advised of their benefits under the law."
Cynthia Tunnicliff, representing the PIP Federation of Florida, likewise told officials that the emergency rule is needed since there is not enough time to put in a permanent rule in place by January 1.
She said that the lack of the rule and the revised form is leaving insurers without a clear idea how to proceed and could result in insurers having to defend themselves in court over which benefits are owed accident victims.
"What is happening here is tremendous confusion in the marketplace for insurers to use the old form, a new form or some form that has not been adopted," Tunnicliff said. "Given the litigiousness of the PIP marketplace it would create great confusion and harm to insurers."
Topics Carriers Legislation Florida
Was this article valuable?
Here are more articles you may enjoy.