The insurance industry is bracing itself for an expected onslaught of claims in the wake of what South Carolina officials are calling a 1 in 1,000 year storm.
"This is an extremely devastating event," said South Carolina Director of Insurance Raymond Farmer. "Generally when we have had events that have caused the insurance industry to pay a lot of claims it has been in a localized area – this event is statewide. The results have been tragic in a lot of cases."
Farmer said some portions of the state had received in excess of two feet of rain as of Monday afternoon and about a foot of rain had fallen statewide, with it still falling. Nine deaths have been linked to the storm, Farmer said, as well immeasurable property damage from toppled trees and flooding. Catastrophe modeling firm AIR Worldwide said one-day rainfall records were set in numerous parts of the state.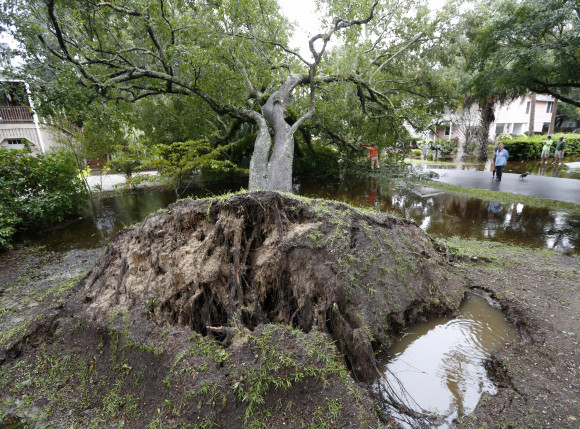 The storm resulted from remnants of Hurricane Joaquin, which bypassed land but brought tropical moisture from offshore. The mega-storm conditions hit many areas of the Southeast coast beginning Thursday, with South Carolina bearing the brunt of it over the weekend. Dr. Marc Marcella, scientist at AIR Worldwide said the trend of the storm has been for the heaviest rainfall to move from the southwest to the northeast, "with the current strongest banding now occurring across North Carolina," he said.
While it is still too early to tell what the total insured cost of the damages will be, Farmer said the storm will be considered primarily a flood event and he expects a "great influx of claims" particularly on the auto side. The Associated Press reported the South Carolina Highway Patrol responded to more than 300 collisions around the state by 6 a.m. Sunday and many other vehicles were abandoned in flood waters.
"There are untold numbers of automobiles caught up in floods," Farmer said.
According to the Associated Press, 14 inches of rain fell in some places overnight Saturday and that "too many roads to count" had been closed. Thousands of residents were without power or water Monday and boil water advisories were in effect for many residents, including in the City of Columbia and West Columbia, from the South Carolina Department of Health and Environmental Control. Farmer said in this situation, insurers can also expect to see a high number of spoilage claims.
With rain still expected through the remainder of Monday and into Tuesday, according to the National Weather Service, the South Carolina Emergency Response Team cautioned residents near dams as water continues to rise. Local South Carolina TV station WIS reported a voluntary evacuation order for residents in Forest Acres after a dam burst around 3:00 pm EST on Monday.
South Carolina Governor Nikki Haley declared a state of emergency for the state on Oct. 1 and President Obama signed an emergency declaration Sunday that allows the Federal Emergency Management Agency (FEMA) to provide federal emergency aid to the state to supplement state, local, and tribal response efforts in the areas affected by the storms and flooding beginning Oct. 1.
The South Carolina Department of Insurance issued a bulletin Monday to all insurers, adjusters, producers and other persons licensed and authorized to transact insurance in South Carolina that allows non-resident, temporary adjusters to be available to assist with the evaluation of claims in the state.
"We spoke to carriers Friday and Saturday and to some degree Sunday who thought they would be able to handle most of their claims with existing personnel, but the event has been worse than they thought and some will need to bring in emergency adjusters to help them settle claims as quickly as possible," Farmer said. "We are doing everything possible to accommodate adjusters and the insurance industry as they start to deal with this event."
At this point, however, the industry is still waiting to respond to insureds as many are still unable to get on the scene of the damage. Farmer said a number of roads are still closed and many businesses, including state offices, were closed Monday as they await basic services being restored.
"We expected a lot of damage, but I don't know if anybody could have expected what we ended up with," Farmer said. "This will be a multi-year event to come back from."
Russ Dubisky, executive director for the South Carolina Insurance News Service, said several member companies that he has spoken to plan to deploy additional claims resources.
"They are expecting enough claims activity to warrant that action," he said. "Folks are starting to file claims but we are still very much at the tip of the iceberg and haven't really even begun the process."
State Farm, South Carolina's largest home and auto insurer, said it "is there for customers following the historic flooding."
State Farm spokesman Justin Tomczak said in statement to Insurance Journal that catastrophe claim representatives are already in the area assisting customers. Additionally, State Farm agents, agents' staffs and local employees are also helping customers file claims and begin the recovery from this event.
"Our hearts go out to the people whose lives have been affected by the storm and our greatest concern is for the safety of everyone in the affected areas. State Farm's first priority is taking care of our customers' needs as quickly as possible," Tomczak said.
Related:
Was this article valuable?
Here are more articles you may enjoy.